Bill to create hostage rescue czar wins defense secretary's backing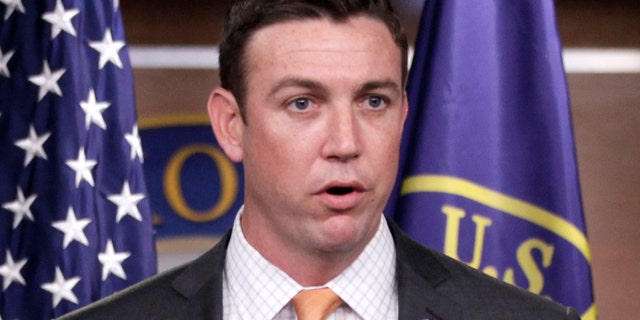 WASHINGTON – A bill to better coordinate government-wide efforts to free U.S. hostages held abroad is winning early support from the Pentagon chief.
Rep. Duncan Hunter, R-Calif., said he will introduce a measure Thursday that calls on the president to task one person to lead U.S. efforts to recover American hostages. The bill comes as Islamic extremists are targeting Americans across the globe and the White House is reviewing how the U.S. responds when citizens are taken hostage.
"I think that there needs to be a buck-stops-here person," Hunter told Defense Secretary Ash Carter at a House Armed Services Committee hearing Wednesday.
"You're right," Carter replied. "We do need a choreographer when that time comes to bring all those pieces together. ... This hostage rescue is an example of something that can only be done with a whole-of-government approach."
Carter added, "We need, obviously, things to be done in a way that is law enforcement-sensitive, but in many cases, we (defense officials) have the assets or the intelligence community has the assets, or it involves homeland security."
Critics of the U.S. government's effort to seek the release of Army Sgt. Bowe Bergdahl, for example, claimed the work suffered from disorganization and poor communication among numerous federal agencies involved. About two-dozen officials at the State and Defense departments, the military's U.S. Central Command, the Joint Chiefs of Staff, U.S. Special Operations Command, the CIA and the FBI all worked the case.
Bergdahl, who was held captive by the Taliban for more than four years, was returned to the U.S. in exchange for the release of five Taliban prisoners from the U.S. detention center at Guantanamo Bay, Cuba, in May 2014.
Some family members of American hostages killed by their captors have complained that the United States did not take enough action to save them.
President Barack Obama ordered the review in November 2014 shortly after Islamic State militants released a video showing they had decapitated American aid worker Peter Kassig. American journalists James Foley and Steven Sotloff were killed earlier that year. The State Department said then that a "small number" of U.S. citizens were still being held by the Islamic State, but refused to provide a specific number.
Hunter's bill would require the president to name one person in the government as the interagency hostage recovery coordinator. That person would manage the work of multiple agencies seeking the release of Americans held by hostile groups or state sponsors of terrorism. For each hostage, the coordinator would set up a task force comprising representatives of government agencies best suited to work on that hostage's release.
Hunter hopes the White House review will mirror the provisions of his bill, or that the measure can be an amendment to the defense spending bill for fiscal 2016.
In the past, the White House has indicated that it leans toward allowing FBI and State to continue to take the lead on hostage cases -- something that might not satisfy those who want to see one person in charge to curb bureaucracy and interagency turf wars that have hampered some hostage work in the past.