AZ Congressman Ed Pastor's Surprise Retirement Sets Off A Scramble To Fill His Seat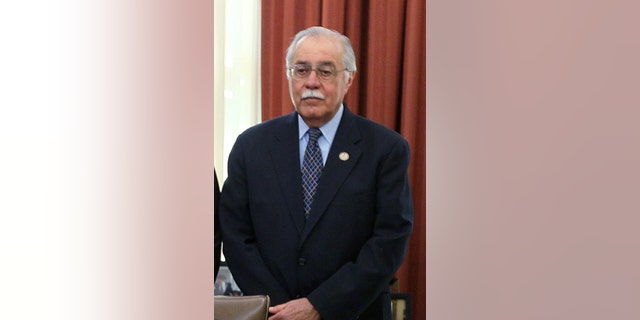 The deadline for filing to run for retiring U.S. Rep. Ed Pastor's seat in Arizona isn't until the end of May, but Arizona state Rep. Ruben Gallego already has a fundraiser planned for March 20. Gallego, after all, announced his intention to run mere minutes after the veteran lawmaker said he was retiring.
And at least one other Latino state lawmaker, Sen. Steve Gallardo, the Senate's minority whip, also made his intention to run a few days later.
Gallego, a former Marine and Harvard graduate, was the first in his family to go to college. He said his mission if he wins would be to get Arizona back on the right track and improve its national image.
"I look forward to winning this race and trying to move Arizona out of 'The Daily Show' laugh track every day," he said, according to The Hill.
Pastor, a Democrat and the first Hispanic from Arizona to serve in Congress, recently announced that he would retire after 23 years. Like Gallego, he was the first in his family to go to college. He easily won elections to his congressional seat in his District 7, which has a large Latino constituency and leans Democratic. In 2012, he had no Republican challenger.
Both Gallego and Gallardo, who are Democrats, have made immigrant rights one of their main issues while in the legislature. Gallardo recently disclosed that he is gay, attributing is decision to make it public to the controversial bill that would have allowed businesses to deny service to certain groups based on the employers' religious views.
Pastor's daughter, Laura Pastor, who is a member of the Phoenix City Council, has not said whether she will run for his seat, according to published reports.
On Tuesday, Roll Call said that Ronnie Cho, a former White House staffer, is "very close" to deciding whether to throw his hat in the ring to be Pastor's successor.
Cho, who is the son of Korean immigrants, was President Barack Obama's associate director of public engagement.
Others have indicated they may run, including Mary Rose Wilcox, the only Democrat on the Maricopa County Board of Supervisors. Wilcox said she planned to resign from her post and form an exploratory committee.
"I've been preparing myself. I feel real good about it. I feel it is time," Wilcox said.
Follow us on twitter.com/foxnewslatino
Like us at facebook.com/foxnewslatino