Ed Pastor, Arizona's First Hispanic Congressman, To Retire After Nearly 25 Years In Office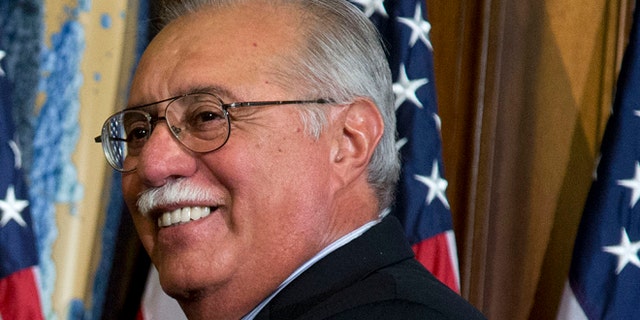 U.S. Rep. Ed Pastor, a Democrat who is the senior member of Arizona's House delegation, announced Thursday that he will retire after serving out his current term.
The 70-year-old said in a news release that it's time for him to "seek out a new endeavor."
His decision to not run for re-election is expected to set the stage for a contested Democratic primary in Arizona's 7th Congressional District. The heavily Hispanic District is located entirely in Phoenix and leans Democratic.
When he leaves office, Pastor will have served 23 years in Congress. He previously served as a Maricopa County supervisor from 1976 to 1991.
It's unlikely Pastor's decision will affect the balance of power in the U.S. House. Democrats appear unlikely to gain the 17 seats needed to win the House majority.
President Barack Obama hailed Arizona's first Hispanic congressman for being a mentor to Latino youths, helping working families and fighting for immigration reform.
"The first in his family to graduate from college and the first Hispanic Congressman ever elected from Arizona, Ed Pastor has spent his life fighting to give every American the same chance to work hard and get ahead that this country gave him," Obama said in a statement. "Michelle and I thank Congressman Pastor for his service, and we wish him, his wife Verma, and their children and grandchildren the very best in the future."
Hours after Pastor's announcement, two Democrats announced they are considering vying for his seat.
State Rep. Ruben Gallego, a Democrat from Phoenix, said he intends to run. Gallego said he wants to improve the state's high unemployment rate and large health disparity.
"The state is going to need this area to be successful for the state to be successful," Gallego said.
Mary Rose Wilcox, the lone Democrat on the Maricopa County Board of Supervisors, told The Arizona Republic on Thursday that she will resign and form an exploratory committee.
"I've been preparing myself. I feel real good about it. I feel it is time," Wilcox said.
She did not give an exact date for when she would hand in her resignation.
Colleagues, including Republican Rep. Matt Salmon, praised Pastor for his willingness to work across the aisle.
"While we haven't always agreed on every issue, Ed is a class act. I admire his hard work and dedication to the people of Arizona," Salmon said.
Pastor left his job as a high school chemistry teacher to pursue a law degree at Arizona State University. After earning his degree in 1974, Pastor went to work for Gov. Raul Castro, the state's first Hispanic governor.
He was on the Maricopa County Board of Supervisors until he resigned to run in a special election for the congressional seat held by Mo Udall, who left because of his Parkinson's disease.
Representing a heavily Democratic area, Pastor generally cruised to re-election victories in recent years. In November 2012, he faced no Republican challenger after the GOP's write-in candidate failed to get enough votes to appear on the ballot.
Pastor is a founding member of the Congressional Progressive Caucus and has consistently scored high in the rankings of liberal organizations like the ACLU and Planned Parenthood.
Pastor has served on numerous congressional committees and now serves on the House Appropriations Committee.
His daughter, Laura Pastor, is a member of the Phoenix City Council. In a statement, she said her father is looking forward to spending time with his family, but she declined to say if she would seek his seat.
"As to my future, I'm excited about the great work we're doing in District 4," she said. "I am considering all my options as I discuss this opportunity with my family."
Based on reporting by the Associated Press.
Follow us on twitter.com/foxnewslatino
Like us at facebook.com/foxnewslatino