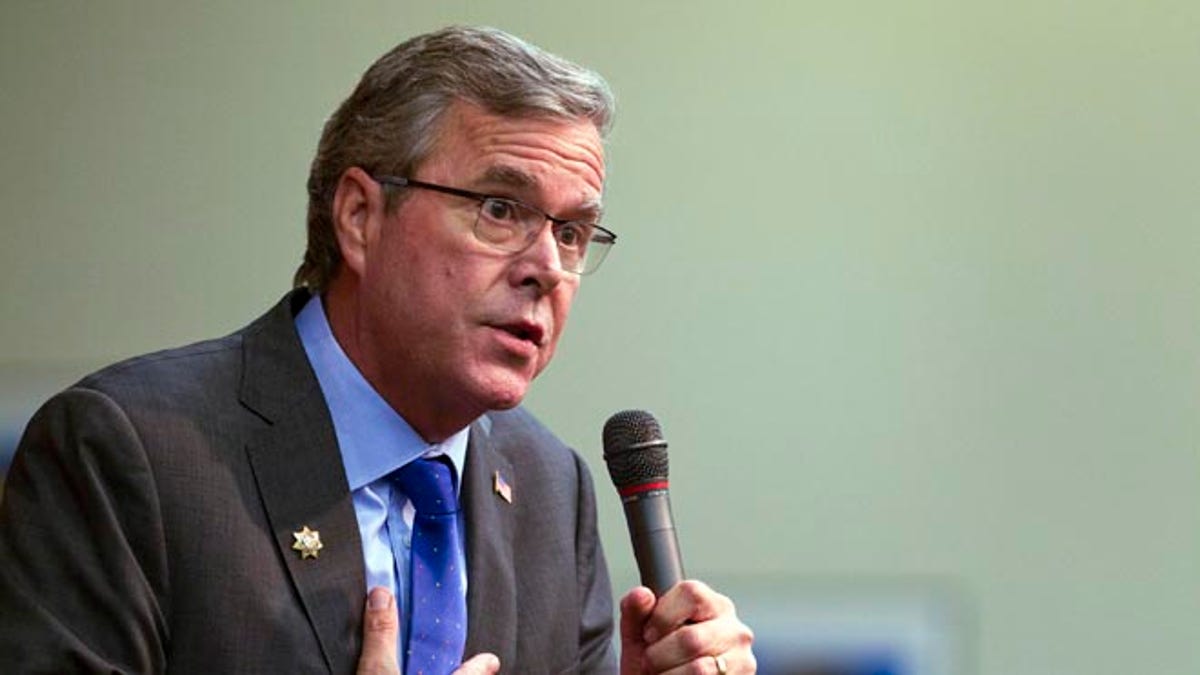 LAS VEGAS (AP) – Former Florida Gov. Jeb Bush distanced himself from his family on Monday as he courted senior citizens in Nevada, the first stop in a national tour aimed at key states on the presidential primary calendar.
Taking questions in an early voting state for the first time this year, the leading Republican White House prospect declared that each of his family members is different and challenged a questioner who suggested otherwise. Bush is the son and brother of former presidents who were unpopular when they left office.
"Do you have brothers and sisters?" Bush asked his questioner at a gathering of roughly 300 senior citizens at a Las Vegas retirement community. "Are you exactly the same?"
The crowd applauded the answer.
Bush has not shied away from tough questions about his policies or family name as he ramps up for a formal 2016 presidential bid.
The appearance comes days after he defended controversial policies on immigration and education at a conference of conservative activists in Washington. It marked a new phase in Bush's early campaign strategy, which has been focused almost exclusively on raising money behind closed doors in the two months since he declared serious interest in a presidential bid.
Monday's appearance was his first in an early voting state since the January announcement. He's scheduled to appear in Iowa, New Hampshire and South Carolina in the coming weeks. Along with Nevada, the states represent the first four on the presidential primary calendar.
Asked about immigration, Bush reiterated his support for a pathway to legal status for immigrants in the country illegally, so long as they pay fines, learn English and have jobs. The policy would allow such immigrants to "come out of the shadows," said Bush, a fluent Spanish speaker whose wife is a native Mexican.
Bush was scheduled to be in Las Vegas through Tuesday afternoon.
His team acknowledged he had other private meetings while in Las Vegas — including some focused on raising money — but declined to provide further details.
The city is home to several prominent Republican donors, including Las Vegas Sands Corp. CEO Sheldon Adelson, who was in Washington on Monday to attend a speech by Israeli Prime Minister Benjamin Netanyahu.
Bush said he monitored Netanyahu's speech, which Bush described as "classy."
Before Bush arrived, area resident Gene Fasciana, 77, a Republican, suggested that Bush needed to distance himself from his older brother, former President George W. Bush.
"Any one of the candidates would be fine with me," Fasciana said. "I just want to go with someone who can win."