As Clinton touts student debt bailout plan, critics point to $2M in college speaking fees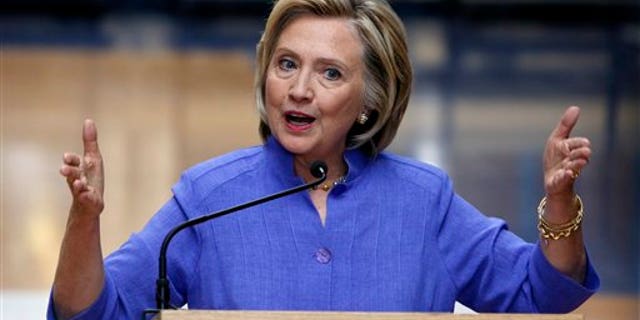 NEWYou can now listen to Fox News articles!
On an October evening in 2013, Hillary Clinton addressed a crowd of more than 6,000 at the University at Buffalo -- a public college in upstate New York -- speaking in a low-key, folksy manner about economic growth in the state's second largest city.
The 30-minute speech earned Clinton $275,000 -- a hefty chunk of the $2 million in total she has received for delivering university speeches since leaving her post as secretary of state in February 2013.
On Monday, Clinton, now the Democratic presidential frontrunner, unveiled a $350 billion bailout plan for college graduates faced with crushing student debt dubbed "the new college compact" -- a proposal her critics cast as blatantly hypocritical and disingenuous. The fee paid by the University at Buffalo could have covered a year of tuition for 42 students at the public institution -- an irony her detractors, including rival GOP presidential candidates, were quick to point out.
"How does @HillaryClinton talk about college debt when she charged a public university $275,000 for one speech?" tweeted Republican presidential contender and former three-term governor of New York George Pataki.
"How does @HillaryClinton talk about college debt when she charged a public university $275,000 for one speech?"
The Republican National Committee predictably seized on the matter Thursday, saying, "Americans deserve a real leader, not someone like Hillary Clinton who will simply call for a tax hike to check a political box after pocketing millions in speaking fees from struggling universities for her own personal benefit."
Clinton, however, has said every dollar earned speaking at universities has gone into the philanthropic work of the Clinton Foundation and not for personal gain.
The universities that paid her also made clear the money was directed to the global non-profit founded by former President Bill Clinton. University at Buffalo officials said the $275,000 went to the Clinton Foundation as part of their 2013-2014 "Distinguished Speakers" series. No state funding or student tuition revenue was used to fund the series and guest speaker fees, the university said.
"The speaking fee and all other appearance costs are financed entirely through ticket sales, sponsorships and endowments established specifically to support the university's Distinguished Speakers Series," the school said in a July 2014 press release.
Not all universities have revealed the fees paid to Clinton for her speaking engagements. In some instances, the Clinton Foundation released a range of money when reporting the payment.
In October 2013, Clinton's speech at Hamilton College in Clinton, N.Y., earned between $250,001 and $500,000, according to the foundation. Colgate University, also a private school in upstate New York, paid the Clinton Foundation somewhere between $100,001 and $250,000 that same month.
The fee wasn't any cheaper for two public universities.
The University of California at Los Angeles doled out $300,000 for Clinton to speak in March 2014, while the University of Nevada at Las Vegas paid $225,000 in October 2014.
In emails obtained by the Washington Post, officials at UCLA tried to bargain down the cost but were told by Clinton's representatives at the Harry Walker Agency that $300,000 is the "special university rate." At UNLV, students penned a letter to Clinton requesting she return the $225,000 speaking fee.
Elias Benjellon, UNLV's student body president at the time, told the Post he thought Clinton should speak for free.
"The students are outraged about this," he told the newspaper in the months leading up to the speech. "When you see reckless spending, it just belittles the sacrifices students are consistently asked to make. I'm not an accountant or economist, so I can't put a price tag on how much we should be paying her, but I think she should come for free."
Critics of the six-figure speaking fees paid to Clinton and other dignitaries argue it should not matter where the money is going and who, exactly, within the university is paying. They say the money is better spent on the students -- whether it be scholarship money to those who cannot afford college or funds to upgrade the campus library.
"Universities continue to lavish speakers, almost all of whom serve only to promote liberal ideas, with exorbitant amounts of money while increasing tuition for their students," said Emily Jashinsky of the Young America's Foundation, a Virginia-based, non-profit conservative youth organization. "The trend is disturbing and speaks to larger issues of bias and mismanagement on our nation's campuses."
Clinton on Thursday asked her young followers on Twitter to describe how student debt made them feel in "3 emojis or less" --textual portrayals of a person's mood or facial expression in the form of a smiley -- or unsmiley -- face. The reaction was not kind in all cases.
"Why don't you dip into the endowment funds of colleges to cover it? Many of them are worth billions," said one tweet.
Others took the opportunity to redirect the question back at Clinton: "How does it feel to make 6 figures speaking at a college?"