Army Corps of Engineers may have to dole out overtime to cover for furloughed power plant operators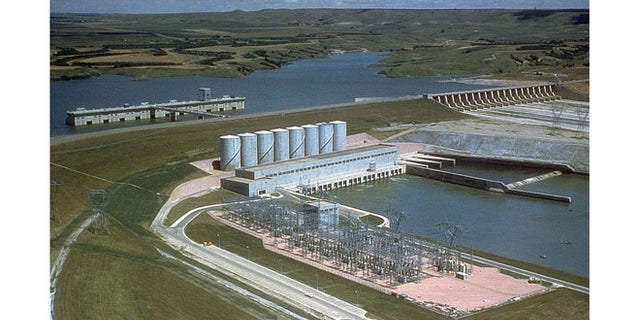 NEWYou can now listen to Fox News articles!
The U.S. Army Corps of Engineers is blaming sequestration for its plan to furlough hundreds of workers at power plants across the country, but could end up canceling out any savings by paying out costly overtime to keep the electricity flowing.
In a series of emails obtained by FoxNews.com, the commanding officer for the Corps' Omaha District, which oversees a total of six power plants along the Missouri River, including the Fort Peck Dam in Montana and the Big Bend Dam in Ft. Thompson, S.D., warned civilian workers at the plants to brace for unpaid leave. The emails went out last month, as it became apparent that lawmakers were not likely to reach a deal to head off mandatory cuts in the federal government's discretionary spending.
"I want to bring you up to date on where we are with planning for possible automatic, across-the-board spending cuts in the face of sequestration and fiscal uncertainty," Col. Joel Cross said in a message dated Feb. 4. "While Congress and the administration continue to work on a plan, we continue to prepare to adapt to future changes by building flexibility to protect current employees.
[pullquote]
"We are making every effort to avoid or minimize impacts to our current workforce. Many employees may be concerned about a possible furlough," Cross' letter continued. "I want you to know that furloughs are a tool of last resort."
The Army Corps runs the dams, using civilian workers who are on the Pentagon payroll.
In another email message dated four days later, the commanding officer tried to ease workers' minds.
"Despite all of the uncertainty in the workplace, key leaders…continue to assure us that furloughs will be the last resort," he says. "We understand there is a quite a bit of frustration and confusion on the subject of furlough and the opportunity for employees to take leave in-lieu of furlough."
"I wish we had a crystal ball to tell you what will happen, but we don't. What we can tell you is 'maybe.'"
The sequester took effect the beginning of March, prompting the Department of Defense to begin planning furloughs for 800,000 employees.
The Army Corps of Engineers is currently drafting a plan to implement a furlough plan to begin on April 23. The plan calls for each worker to be furloughed for 22 days - 176 hours - and suggested that the amount should be spread out to "16 hours per pay period" which equals to one day per work week.
The formal process requires the Corps and the plants to enter bargaining with local unions and provide a minimum 30-day notice to all employees.
Requiring every employee at the six plants along the Missouri River could prove daunting when it comes to day-to-day operations, say workers.
"The Corps of Engineers is considering unmanning some hydroelectric plants during certain shifts and, if necessary, shutting them down," said one plant worker, who provided internal e-mails to FoxNews.com and asked that their name be withheld. "If this happens, not only will the electrical grid be affected but the flow on the Missouri River will cease."
In addition to providing the energy needed to create power at the six plants, the Missouri River is a source of drinking water for several towns from Montana to St. Louis and provides cooling water to several coal power plants and two nuclear power plants located in Nebraska.
"In my 30-plus years as federal civil servant I have never seen nor would have ever believed that our government could come to conceive such an abortion as the sequester," the power plant worker told FoxNews.com. "The pending decision to furlough critical power plant personnel for the sake of the sequester is totally asinine."
The local chapter of IBEW Local 1688, which represents workers at the dams, met with the Corps officials in Omaha on Monday and reached an agreement on splitting workers shifts to ensure that there is continuous coverage.
"Our biggest deal was to have the least amount of financial loss for the workers and keep productivity up," Jeremy Irving, business manager for Local 1688, told FoxNews.com. "Crews will be split."
Union officials believe it may be necessary for the Corps to pay overtime to cover the shifts of furloughed workers, but said they are willing to work with the Corps to find a better solution.
"From the union's standpoint it would be foolish to have to pay out overtime when there are workers on furlough. But the Omaha district has been working with us as much as possible," Irving said. "Once this takes effect, we will have to negotiate for the operations crew."
The effects of the sequestration cuts could reach wider than the banks of the Missouri River, as all power plants operated by the Corps will have to furlough workers.
The U.S. Army Corps of Engineers is the largest owner-operator of hydroelectric power plants in the country with a total of 75 plants that make up for 24 percent of U.S. hydro power capacity and 3 percent of the total U.S. electric capacity.
Sources close to the recent furlough debate say that other power plants across the country have already done everything from paying overtime to placing unqualified personnel, such as plant mechanics and electricians, in night-time operating positions just so they can keep the operator on furlough.
"The unmanning of certain plants at night, placing unqualified personal in place of furlough operators not only risks the stability of the national electrical grid but also public safety," a splant worker told FoxNews.com. "Then to pay overtime to cover shifts for some employees that are being furlough is incomprehensible!"