Arizona's Brewer Plans to Appeal Immigration Law Ruling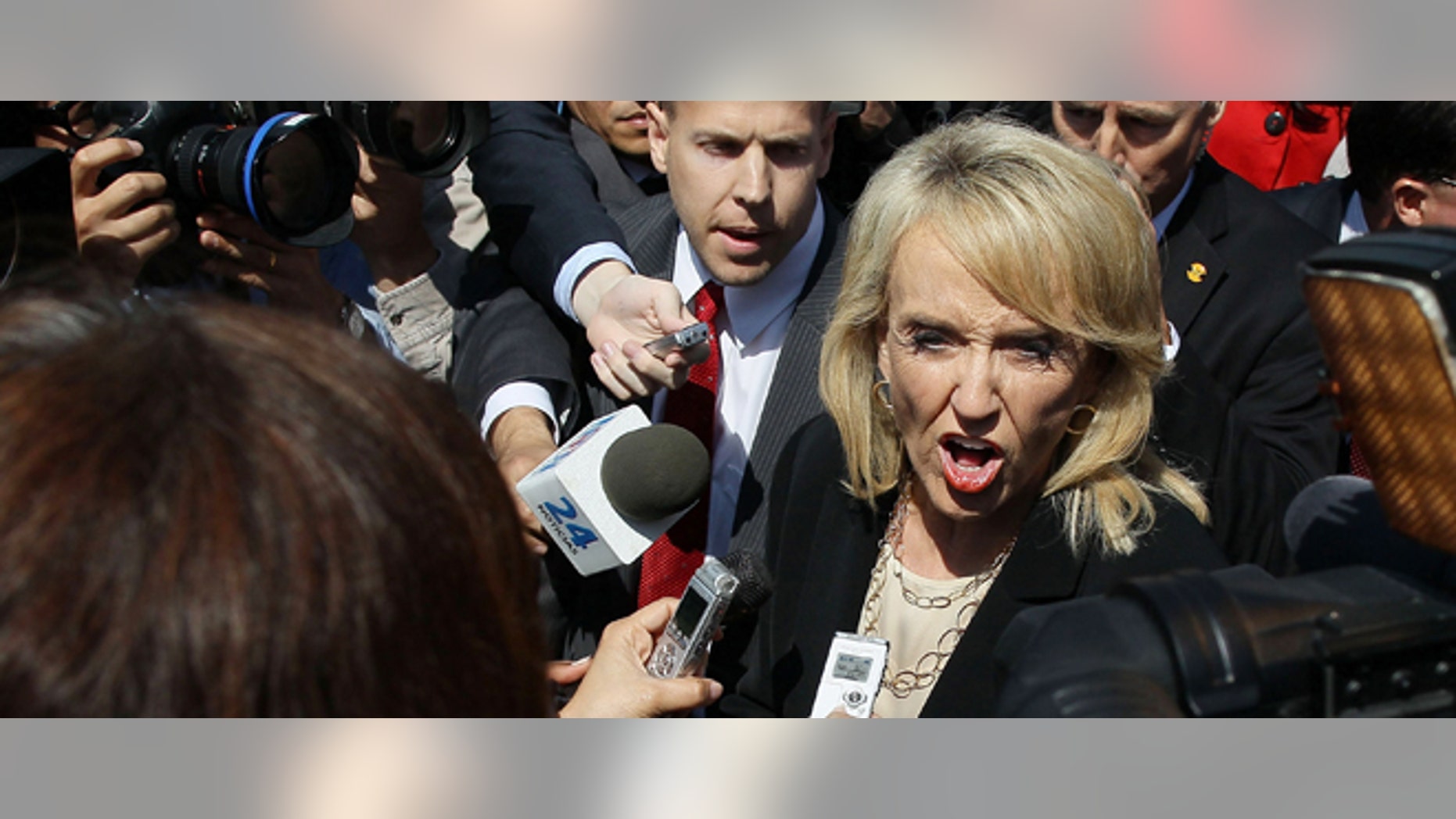 Arizona Governor Jan Brewer won't back down on a federal judge's ruling against part of the state's controversial immigration law that would make it a crime for citizens to harbor undocumented immigrants.
An appeal with the 9th U.S. Court of Appeals in San Francisco is under way by Brewer's lawyers to lift the September 5 hold placed on the measure by a lower court judge. As part of a ruling that allowed the so-called "show me your papers" portion of the law to go into effect, U.S. District Court Judge Susan Bolton barred part of the law that makes it illegal in Arizona to harbor, transport or shield an undocumented immigrant.
"I am under no illusion that opponents of SB 1070 will stop their baseless allegations and call off their teams of lawyers. Even now, they scheme for new ways to undermine the rule of law and malign the character and commitment of our State and local law enforcement," Brewer said in a press release put out earlier this week. "Know this: They will not succeed. The State of Arizona stands firmly in support of the rule of law, in defense of our citizens and together with our brave men and women in uniform."
Earlier this month, the U.S. Supreme Court upheld what many argued was the most contentious portion of the Arizona law. The "show me your papers" provision requires police in the state to check the status of people they stop and suspect are in the country illegally.
Brewer signed SB 1070 into law in April 2010, under the argument that the federal government was not doing enough to prevent undocumented immigrants from entering the state. An estimated 360,000 undocumented people currently reside in Arizona.
The law immediately drew the attention of civil rights groups such as the American Civil Liberties Union (ACLU) and the National Council of La Raza as well as the Obama administration, which argues that the federal government has sole authority over immigration policy.
"It simply is not the state's business to criminalize everyday interactions with Arizona residents based on their immigration status," said Omar Jadwat, a senior staff attorney with the ACLU Immigrants' Rights Project, according to Reuters. "Every court to consider this issue has gone our way."
Brewer will soon travel to neighboring New Mexico to take part in a U.S.-Mexico border state governors meeting for the first time since she took office. The annual meeting of Mexican and U.S. governors draws the politicians together to discuss cross border issues such as immigration, drug trafficking and economic development.
The 2010 conference that was supposed to be held in Arizona was scrapped because Mexican governors refused to attend after the state's approval of SB 1070. Brewer skipped last year's conference because she instead wanted to meet with a state agency director.
Brewer was also one of a number of U.S. governors who skipped the 2009 conference due to escalating violence on the Mexican side of the border.
The 30th such conference will be held Oct. 4-5 in Albuquerque, N.M. with the governor's planning to discuss economic development, border security and international ports of entry.
The Associated Press contributed reporting to the article.
Follow us on twitter.com/foxnewslatino
Like us at facebook.com/foxnewslatino