Arizona Candidate Who Changed His Name To Cesar Chavez Removed From Ballot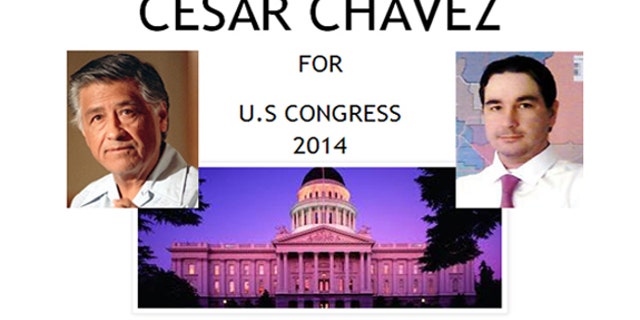 NEWYou can now listen to Fox News articles!
The grandson of labor icon Cesar Chavez trumpeted a judge's ruling that invalidated the ballot of an Arizona congressional candidate who legally changed his name to Cesar Chavez to attract Latino voters.
Alejandro Chavez said he was glad Scott Fistler had been "prevented from representing and defrauding" the people of the 7th Congressional District. Fistler was removed from the ballot Tuesday because of invalid nomination signatures.
"…It is time to bring the focus back on the issues my grandfather and so many others have fought for-including healthcare, education, economic opportunity, immigration, and civil rights," he told Fox News Latino.
Judge John Rea ruled that almost half of the nearly 1,500 signatures gathered by the candidate formerly known as Fistler to get on the Aug. 26 ballot were invalid.
That put him 295 signatures shy of the 1,039 needed to qualify. Chavez, who acted as his own attorney during Tuesday's hearing in Maricopa County Superior Court, has until June 27 to appeal and said he will do so.
Chavez changed his name to that of the late farm labor leader in December and switched party affiliations in April.
He previously lost two previous bids for elected office as a Republican. Fistler ran a write-in campaign against U.S. Rep. Ed Pastor in 2012 and ran against Pastor's daughter, Laura, for a seat on the Phoenix City Council last year.
Now, with the name Chavez, he is seeking a seat in the heavily Hispanic and heavily Democratic 7th Congressional District, which includes parts of Phoenix and Glendale.
Alejandro Chavez had filed a legal complaint alleging the candidate got signatures from people who aren't qualified to vote in the 7th District, changed his name to mislead voters and failed to register as a Democrat before collecting signatures.
The Maricopa County Elections Office determined the petition signers weren't eligible to vote in the primary because they weren't registered to vote, didn't live in the district, or weren't Democrats or independents.
Based on reporting from The Associated Press.
Follow us on twitter.com/foxnewslatino
Like us at facebook.com/foxnewslatino