Anti-Trump vandalism sweeps country: Yacht, Hollywood star latest targets
Two years into the Trump administration, aggrieved activists are not only accosting Cabinet members or driving them out of restaurants -- they're increasingly taking out their frustration on inanimate objects.
A burst of anti-Trump vandalism against possessions and property associated with administration officials is the latest flare-up in a "resistance" that has taken many forms.
Last year, protesters marked the anniversary of President Trump's election by screaming at the sky. Lately, the tactics have become more confrontational, touching off a national debate over civility in politics.
But smashing and spray-painting are yet another outlet. Here are some of the items that have been the focus of anti-Trump activists' rage.
Trump's Star on the Hollywood Walk of Fame

Trump's star on the Walk of Fame has been subjected to repeat acts of vandalism, with one protester going so far as to smash it with a pick ax last month.
Brawls have since broken out at the spot after crowds of Trump supporters and protesters gathered near the contentious marker.
But this isn't the first time the star has been under assault. Back in 2016, before Trump was elected, the star was defaced by a vandal who scratched off his name and a TV icon. The vandal told TMZ he was doing it so that the removed parts could be auctioned for the legal defense of Trump accusers.
Earlier that year, the star was defaced in February of 2016 when someone spray-painted it with a swastika.

Betsy DeVos' Yacht

A $40 million boat owned by Education Secretary Betsy DeVos was untied from its Ohio dock last week, causing it to drift into a dock and incur up to $10,000 in damages. The vessel, named the Seaquest, ended up with large scratches before the crew was able to get control of it.
DeVos is unlikely to be too troubled by the damage -- the Seaquest is one of 10 vessels owned by the DeVos family.

Ben Carson's House

Ben Carson, the Housing and Urban Development secretary, said in a Facebook post last August that his home in Virginia, along with his neighbor's house, was vandalized by anti-Trump types who "wrote hateful rhetoric about President Trump."

"We were out of town, but other kind, embarrassed neighbors cleaned up most of the mess before we returned," Carson said.

Trump Golf Courses

Of all the officials in the Trump administration, President Trump will always be the main villain in the eyes of his opponents. This, in turn, makes his properties a prime target. 

The Trump International Golf Course near his Florida estate was hit by splotches of red paint in April, obscuring some of the letters on the sign at the entrance of the club in  West Palm Beach.
In October, a Hawaii man reportedly was charged with criminal mischief for defacing four golf courses owned by the Trump Organization, by allegedly carving messages into the greens.
Trump International Hotel
In October 2016, Trump's hotel in downtown Washington D.C. was vandalized with the phrases "black lives matter" and "no justice, no peace."
In May 2017, the same hotel briefly had messages in light projected onto the hotel, including one that said "Pay Trump Bribes Here." Another read "emoluments welcome," in reference to the controversy surrounding Trump's alleged financial conflicts.
Trump Paraphernalia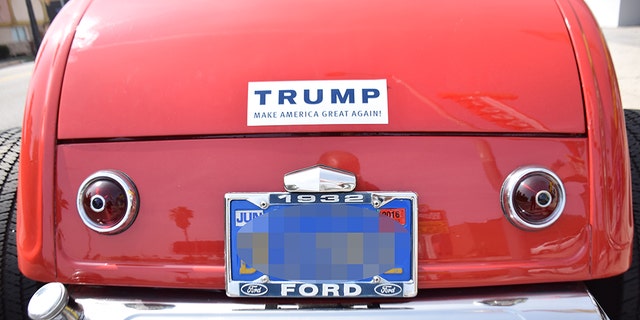 Make America Great Again? Well, don't declare it too loudly, as there have been multiple reports of Trump supporters being accosted for wearing a MAGA cap, or other signs of Trump support.
Just this week, a woman in Massachusetts was taken into custody after allegedly deliberately ramming into a car sporting a Trump bumper sticker.
"She said, 'You voted for Trump?'" the man she hit recalled her saying. "I said yes. She called me a racist and several other names." The man then claimed that the woman repositioned her vehicle and hit his car with hers, the Cape Cod Times said, citing the police report. After this, the woman reportedly left the scene.
Fox News' Morgan Evans, Frank Miles and The Associated Press contributed to this report.