Alleged Drug Traffickers Arrested, Suspected of Aiding Colombian Terrorists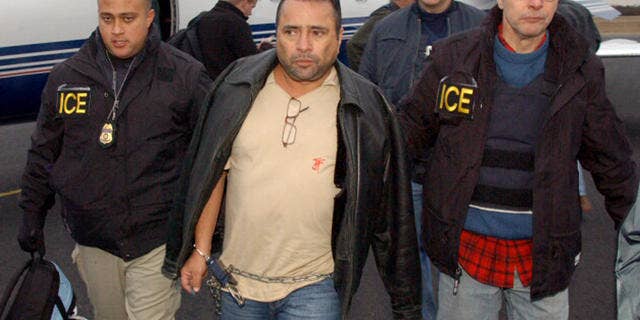 Immigration officials have arrested six people in Miami on narcotics charges and conspiring to provide support to a terrorist organization.
Officials of the Immigration and Customs Enforcement, or ICE, said the suspects, all men and nationals of Central and South America, "conspired and attempted to provide grenade launchers, grenades, automatic rifles and other weapons to what they thought were members of the Autodefensas Unidas de Colombia (AUC)," which is deemed a terrorist organization by the United States.
"Drug trafficking is fuel for the terrorists' engine," said Special Agent in Charge Mark R. Trouville, Drug Enforcement Administration, Miami Field Division. "This indictment drains the tank."
Franklin William McField-Bent, known as "Buda," a 53-year-old Nicaraguan national, has been charged with four counts of conspiring and attempting to provide material support to a designated terrorist organization and three counts of narcotics charges, was arrested in Barranquilla, Colombia last fall.
The indictment also alleges that McField-Bent and others conspired and attempted to distribute cocaine knowing that it would eventually be imported into the United States. If convicted, McField-Bent and the other co-defendants face a maximum life sentence on each of the three narcotics charges, and a mandatory minimum 10 year sentence on each count.
The defendants, ICE said, were dealing with undercover agents. If convicted, McField-Bent faces a maximum 15-year sentence in prison on each of the four material support counts.
Authorities say that the indictment arose from a joint effort by immigration, Homeland Security and drug enforcement special agents to curtail the illicit weapons-for-drugs exchanges in Central and South America.
"This investigation is another fine example in protecting our national security by ensuring that the sale and distribution of weapons is done lawfully and preventing narcotics from being imported into the United States," said Anthony V. Mangione, special ICE agent in Miami.
"This case will send a message to those individuals and criminal organizations who attempt to profit by illegally supplying weapons to terrorist organizations," he said. "ICE will continue to aggressively pursue those who support terrorist organizations that could potentially do harm to the United States and our allies."
Follow us on twitter.com/foxnewslatino
Like us at facebook.com/foxnewslatino