All eyes on Nevada's Republican senator mulling ObamaCare decision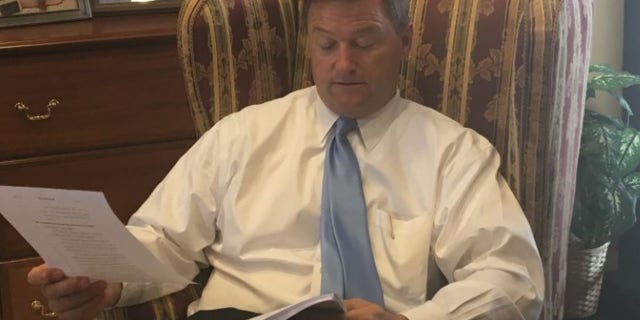 Republicans are not in the position to lose votes if they hope to repeal ObamaCare, so pressure is being placed on senators like Sen. Dean Heller, R- Nev., to declare allegiance on the newly crafted bill.
If Heller supports the bill, he would likely be parting ways with Nevada's popular GOP Gov. Brian Sandoval in a state that did not support President Donald Trump in the 2016 presidential election.
But if he opposes the bill, conservative groups will likely come after them like they did earlier this year after he opposed the GOP's initial health care bill.
And Democrats plan to target his seat either way in next year's mid-term elections.
Trump on Friday tweeted encouragement to Republicans on the Hill to "do what is right for the people" and get their "failed ObamaCare replacement approved."
Trump declared a day earlier that failure would make him "very angry" and that he would blame Senate Majority Leader Mitch McConnell, R-Ky.
"I will be at my desk, pen in hand!" Trump tweeted.
The reworked bill Sen. Mitch McConnell presented to fellow Republicans aims to win conservatives' support by letting insurers sell low-cost, skimpy policies. At the same time, he seeks to placate hesitant moderates by adding billions to combat opioid abuse and help consumers with skyrocketing insurance costs.
Fox News' Sean Hannity took aim Thursday night at Republican senators who expressed skepticism of or opposition to the revised health care measure that would repeal and replace ObamaCare.
"You made us a promise, the American people, for seven years. You guaranteed you'd end ObamaCare," the "Hannity" host said. "You assured all of us you would develop a health care bill that actually worked for the American people. Stop your whining, roll up your sleeves, get to work, put your egos aside, get it done."
Last month, a pro-Trump group reportedly planned to launch the seven-figure ad campaign against Heller.
Heller is up for re-election in 2018 and is considered one of the most vulnerable GOP senators.
"Obamacare is collapsing. This is a crisis for the American people. There is no excuse for any Republican or Democrat to oppose the Senate health care bill outright," Brian Walsh, president of the group, said in a statement at the time. "Senator Heller ... appears to be heading down a path with Nancy Pelosi, Chuck Schumer and the radical left."
The Associated Press contributed to this report