A government shutdown could really happen – just as Congress eyes tax victory
Congressional Republicans could summit the tax reform peak next week – and then plummet into a government shutdown pit two days later.
That could, in turn, drain the verve out of Republicans' tax cut victory lap, instead forcing them to endure the specter of a Christmas-time government freeze.
You'll pardon the whiplash.
Congress sidestepped a shutdown late last week with an interim spending measure that simply re-upped all old funding. But there's little agreement over how to fund the government beyond 11:59:59 p.m. on Dec. 22. Many lawmakers from both sides won't abide another stopgap spending package. Bipartisan delegations from Texas, Florida and California are demanding leaders attach tens of billions of dollars in disaster aid to the plan. Republicans wonder if they can pass a bill on their own.
Money is one problem. But the bigger issue is time.
House Republicans huddled with rank-and-file GOPers about options to avoid a shutdown.
"They'll float a bunch of trial balloons and see how people react," snarked one senior House GOP aide just before the conclave. "That's a great way to do it."
House Republicans forged ahead Wednesday with a bill to fully fund the Defense Department though Sept. 30, 2018. The measure would bust special budgetary caps known as "sequestration." The plan would simply renew all other federal spending through Jan. 19, 2018.
The approach confused some Republicans.
"We are more concerned with strategy than specifics," said one House Republican who asked not to be identified.
Fox News is told House GOP leaders will see if they have the votes on the measure Thursday morning. But expectations are low. Some deficit hawks may not like the military plan. Lawmakers from states suffering from natural disasters are balking.
"If the plan doesn't have disaster aid, they don't have me," said one senior House Republican from a state devastated by hurricanes.
And then, there is the Senate.
Some House Republicans want the House to "jam" the Senate. In other words, the House would approve a spending plan, send it to the Senate and skip town for Christmas. That could force the Senate to simply swallow the House bill in order to avoid a government shutdown.
Does the House feel like it's always getting rolled by the Senate on spending bills?
"Just about since 1776," said Rep. Dave Brat, R-Va.
But Rep. Mike Simpson, R-Idaho, a senior member of the Appropriations Committee, is skeptical of that approach.
"Some people are suggesting we can jam the Senate. Send it over there on Wednesday and go home," said Simpson. "Then you'd better get a return flight on Thursday."
That's because the Senate would likely reject the House's bill. The Senate could possibly alter the House bill and send something back which is different.
Bouncing major bills between the House and Senate consumes time – especially when all of this is supposed to happen sometime after the House approves the tax bill Wednesday – but before the government loses funding next Friday night.
Some Republicans question the wisdom of the House GOP strategy when hours run short.
"We deny the existence of the Senate from time to time," said Rep. Charlie Dent, R-Pa., of his House colleagues. "I don't know what the Senate will do. But I know what they will not do. They will not take the House bill as presently presented."
Republican leaders are adamant they can forge a compromise.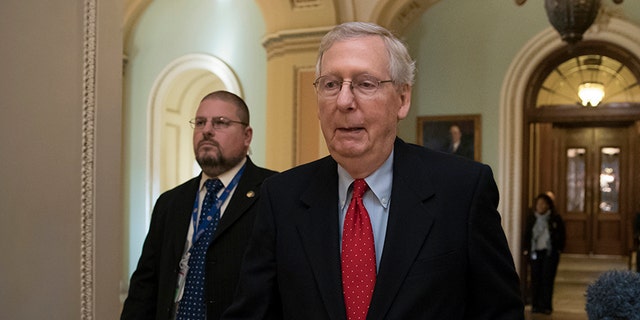 "There isn't any chance we're going to shut the government down," said Senate Majority Leader Mitch McConnell, R-Ky.
That's why House Republicans may have to stomach Democratic priorities on a bill returned from the Senate – whenever that may be. McConnell needs buy-in from multiple Democratic senators to avoid a filibuster.
Lawmakers must evaluate the parliamentary math to approve spending bills in both chambers. House Republicans lost precisely the number they could afford to lose on last week's government funding bill. One of those yeas – former Rep. Trent Franks, R-Ariz. – resigned abruptly amid a sexual surrogacy scandal. By the same token, one of last week's nays – Rep. Mo Brooks, R-Ala. – announced he would miss votes due to prostate cancer surgery.
Things could be trickier in the Senate. The breakdown is currently 52 Republicans and 48 senators who caucus with the Democrats. But that could all change if there's a government shutdown and Congress meets between Christmas and New Year's. It's likely Alabama would certify the results of Tuesday's special election by Dec. 26. That could send Sen.-elect Doug Jones, D-Ala., to Washington. Regardless, Jones is certainly a senator by early January. The new Senate breakdown: 51 Republicans and 49 members who huddle with the Democrats.
Sen. Rand Paul, R-Ky., announced he "cannot in good conscience vote to add more to the already massive $20 trillion debt." Plus, there are questions about the health of Sen. John McCain, R-Ariz.
"Senator McCain is currently receiving treatment at Walter Reed Medical Center for normal side effects of his ongoing cancer therapy," said his office late Wednesday. "Senator McCain looks forward to returning to work as soon as possible."
Sen. Lindsey Graham, R-S.C., is one of McCain's closest confidantes, often speaking with the Arizona Republican multiple times each day. But Wednesday was different.
"I haven't talked to John," said Graham. "I'm hoping with a little rest and taking a little time off he can regroup and come back and have many days and months left as United States senator."
So Republicans are trained on passing tax reform. That's on a glidepath. But no one is really sure how they fund the government by the end of next week.
Capitol Attitude is a weekly column written by members of the Fox News Capitol Hill team. Their articles take you inside the halls of Congress, and cover the spectrum of policy issues being introduced, debated and voted on there.