91 Days to Decide: Nevada Candidate Under Fire for 'Hispanic' Comment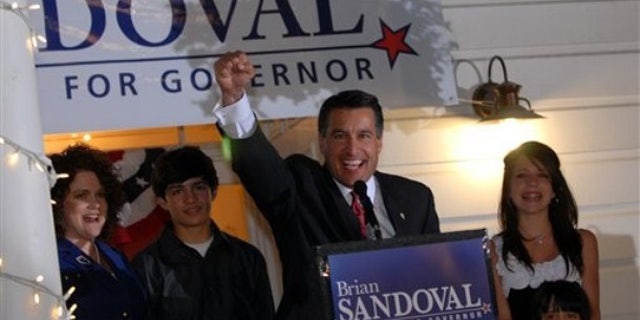 A few muted words supposedly on a tape in the vaults of a Spanish television network have given Rory Reid's campaign for Nevada governor an unexpected and badly needed jolt.
Reid, chairman of the Clark County Commission, Nevada's largest county, has seized on a claim that his Republican opponent, Brian Sandoval, made a crass comment about his support for the Arizona immigration law during an interview with Univision.
Asked how he'd feel if his children were stopped and asked for their papers, Sandoval was quoted as saying: "My children don't look Hispanic."
The quote was first published by Univision News Director Adriana Arevalo in a column critical of Sandoval, who is Hispanic. The offense was allegedly made during an interview with a Univision reporter at the network's Las Vegas studio.
Sandoval has said he doesn't recall uttering those words, and Univision has clamped down on the material. At first, the company told Nevada-based political reporter Jon Ralston that it is work product. It then claimed there was no audio. A spokesman for Univision Las Vegas affiliate KINC told FoxNews.com on Tuesday that the station had nothing to release.
"As we've said before, there is no audio of Mr. Sandoval's comment," the spokesman said.
Rory Reid's campaign also has not seen or heard the original comment, according to a spokesman. But that hasn't stopped Nevada Democrats from taking the opportunity to hammer Sandoval on all sides.
The Nevada Democratic Party called the comment a "national embarrassment" in a release Monday. Reid's campaign says it raises all manner of questions about Sandoval's character and sensitivity.
"It's the equivalent of saying, you know, 'I'm not too concerned about schools because ... I don't have any kids in public school'," Reid spokesman Mike Trask told FoxNews.com.
Reid's campaign also is raising Sandoval's handling of the fallout as an honesty issue. Sandoval at first denied ever saying it during an interview with Ralston. Then he released a statement leaving room for both an apology and a denial.
"I don't remember saying it and it is most certainly not how I feel. If I did say those words, it was wrong and I sincerely regret it. I am proud of my heritage and my family," Sandoval said in the statement.
Trask said Sandoval is "trying to have it both ways."
The catch is, he can, because Univision claims it has no evidence to release. Reid's campaign has tried unsuccessfully to pry from Univision any recording of the comment.
The new attention on Sandoval's alleged gaffe comes after Reid tried to hammer Sandoval as anti-education. So far, Reid's campaign against the former judge has not taken off in the polls.
A Rasmussen Reports poll released July 29 showed Sandoval with a 10-point lead, down from 21 points in early July. But a Mason-Dixon poll conducted for the Las Vegas Review-Journal and released July 30 pegged Sandoval's lead at a daunting 19 percentage points.
Reid has a big campaign war chest and name recognition going for him, but has avoided using his last name in campaign material. His ads and his website refer to him as "Rory," with scant mention of the last name that also belongs to his embattled father, Senate Majority Leader Harry Reid.