80 Percent of Americans Side With Obama in Debt Limit Talks? Not Quite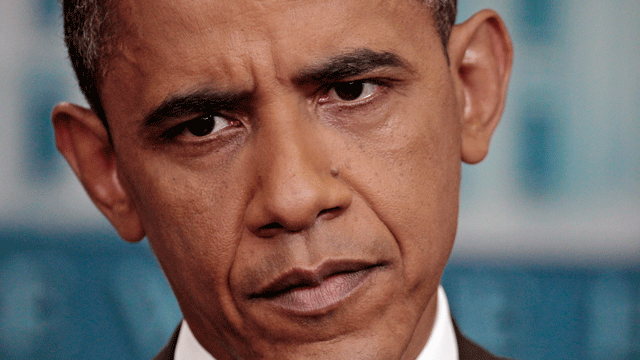 Seeking leverage against Republicans in the debt-limit standoff, President Obama on Friday declared a vast majority of Americans support his "balanced approach" to getting the nation's fiscal house in order.
"You have 80 percent of the American people who support a balanced approach. Eighty percent of the American people support an approach that includes revenues and includes cuts. So the notion that somehow the American people aren't sold is not the problem," Obama said at a White House briefing room news conference. "The problem is members of Congress are dug in ideologically into various positions because they boxed themselves in with previous statements."
But the president's numbers don't quite add up in the poll results he appears to be citing.
A Gallup poll released this week does show that only 20 percent favor the Republican approach that relies only on spending cuts. But that doesn't mean the other 80 percent favor the Democratic mix of tax increases and spending cuts.
In fact, 32 percent said they support spending cuts equally with tax increases. Another 30 percent said they prefer mostly spending cuts while 7 percent favored mostly tax increases. Just 4 percent threw their support behind tax increases alone.
Even so, it would have been fair to say at least 73 percent are open to some tax increases, and 69 percent are open to some mix of spending cuts and tax increases.
The extremes who prefer only spending cuts or only tax increases, however, are clearly in the minority.
Among the different party affiliations, 24 percent of Republicans support spending cuts and tax increases equally, while 30 percent of independents and 42 percent of Democrats do.
The poll notes that in recent months most Americans have expressed support for higher taxes on the wealthiest Americans through the expiration of the Bush tax cuts and to keep Social Security afloat.
The poll was based on telephone interviews conducted July 7 to 10 and used a random sample of 1,016 adults. The margin of error was 4 percentage points.
The president didn't say that he was referring to the Gallup poll to support his position, but the polling numbers are the strongest leaning in the president's favor.
With the clock ticking more loudly on negotiations to keep the government paying its bills past Aug. 2, Obama is making a last-ditch effort to revive stalled talks between the White House and congressional negotiators. Obama held two news conferences this week, aiming to put public pressure on Republicans.
But the president's PR blitz, including his overstated claim that 80 percent of Americans are on his side, hasn't pushed Republicans from their no-new-taxes position.
"President Obama has been talking tough about cutting spending, but his deeds aren't matching his words," House Speaker John Boehner said in a statement after the president's news conference. "Consider all of the government boondoggles he has refused to put on the table for cuts: ObamaCare; the so-called 'green jobs' initiative; high-speed rail; and a vast array of other pet projects that are unnecessarily costing taxpayers hundreds of billions of dollars.
"While Republicans have focused on the big problems we face, this White House has focused on protecting the status quo," he continued.
House Republicans are rallying behind a bill that would "cap, cut and balance" the budget. The legislation is designed to reduce federal spending, impose spending caps over the next 10 years and require the eventual passage of a balanced-budget amendment to lift the nation's legal limit. They are expected to vote on the measure Tuesday.
Rep. Steny Hoyer, the No. 2 Democrat in the House, sent a message his Republican counterpart, House Majority Leader Eric Cantor: "I don't think cut, cap and balance is going to get us there," he said on the House floor Friday. "I hope he has some other plan."
A spokesman for House Democratic Leader Nancy Pelosi called the bill a "Trojan horse for the GOP agenda."
"It ends Medicare in order to give tax breaks to big oil," said Pelosi spokesman Nadeam Elshami. "It is time for Republicans to get serious about working with Democrats on a bipartisan, balanced approach."