69 Days to Decide: McCain Beats Back Hayworth in GOP Primary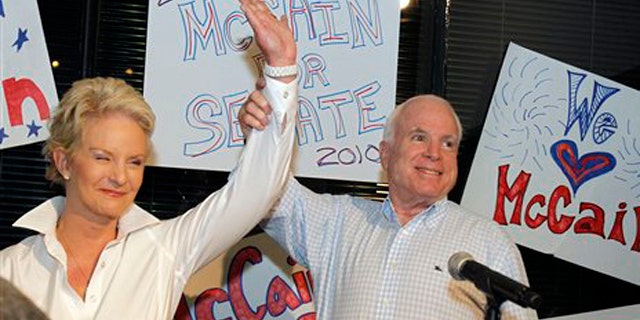 Sen. John McCain fended off Republican challenger J.D. Hayworth in the Arizona Senate primary Tuesday, virtually assuring he'll keep his seat in November despite signs earlier in the year that an anti-Washington wave could wipe out one of Capitol Hill's most influential leaders.
Hayworth at one point in the campaign seemed poised to leverage Tea Party support and give McCain a run for his political life. Outsider challenges had already led to the primary defeats for Republican Utah Sen. Bob Bennett and Democratic Pennsylvania Sen. Arlen Specter, and McCain was potentially vulnerable nearly two years after losing the 2008 presidential election to Barack Obama.
But Hayworth struggled to build his anti-establishment credentials and seriously erode McCain's popularity in the polls. Though Hayworth slammed McCain for voting for the Wall Street bailout and allegedly being soft on illegal immigration, McCain worked hard to show he was tough on border security.
It didn't hurt that McCain reportedly spent about $20 million in advertising, far outpacing his competitor, and an embarrassing infomercial surfaced showing Hayworth pitching seminars on how to win free federal money.
With 97 percent of the precincts reporting early Wednesday morning, McCain led Hayworth 56 percent to 32 percent.
McCain, in his victory speech Tuesday, acknowledged the "hard-fought primary" and thanked his supporters.
"I have never and will never take your support for granted, or feel I am entitled to your trust without earning it," he said.
The 73-year-old McCain now begins a final 10-week push and will be the heavy favorite. The Democratic race was still undecided, but whoever emerges will have an uphill fight in heavily conservative Arizona.
Arizona Gov. Jan Brewer also easily won the Republican gubernatorial primary Tuesday, moving onto the general election where she'll face Democratic state Attorney General Terry Goddard. Brewer defeated little-known moderate Matthew Jette and Buz Mills, a businessman whose name remained on the ballot even though he suspended his campaign in July.
On the Senate side, Hayworth, a former congressman and talk-radio host, had hoped to win over conservatives frustrated with McCain's famous willingness to buck his party and work with Democrats on issues like campaign finance, immigration and climate change.
In response, McCain abandoned his maverick label and cast aside one of the most powerful brands in American politics as he fought to reassure conservatives they could trust him, namely by taking a harder stance on border issues amid the debate over Arizona's immigration law.
McCain also portrayed Hayworth as a big-spending creature of Washington and a late-night infomercial "huckster."
In 2007, Hayworth appeared in an infomercial pitching free government money on behalf of a company accused of swindling customers out of thousands of dollars.
Four Democrats are vying to take on McCain, and they all lack the broad name recognition of McCain and the huge bank account that the incumbent has from his 2008 presidential campaign.
McCain has never lost an election in his home state and has rarely faced serious opposition since he succeeded Barry Goldwater in the Senate in 1986.
In an e-mail to reporters Tuesday morning, McCain spokesman Brian Rogers recalled a half-dozen ways the campaign exploited Hayworth missteps to knock him to the ground, including the infomercial and his support of the birther movement questioning President Obama's citizenship.