63 Days to Decide: New York Senate Candidate Spills Details About Arrest Record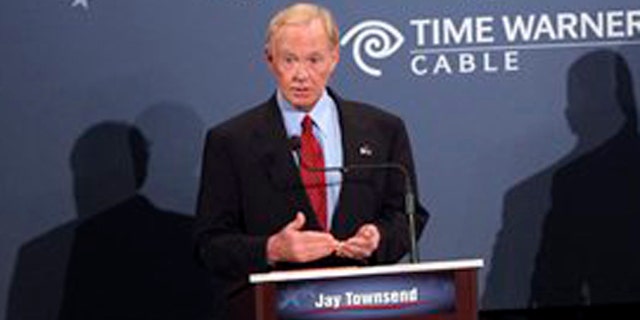 A Republican Senate candidate for the first time provided extensive details about his arrest a decade ago -- something he unexpectedly copped to during a New York primary debate last week.
Jay Townsend, a political consultant battling former CIA officer Gary Berntsen for the right to challenge heavyweight Sen. Charles Schumer in the fall, was facing pressure from his primary opponent to explain himself after he acknowledged having an arrest record during the lightning round of the debate.
He told reporters at the time he once had an "exchange of words" with someone, whom he talked to "like my high school football coach talked to me." Townsend ended up in court but said he was acquitted -- a sparse response that left many questions unanswered.
Reached Tuesday, Townsend elaborated in an interview with FoxNews.com. His version could not be immediately corroborated against court documents -- attempts to obtain the documents from several local court offices were unsuccessful. But Townsend's lawyer Bruce Dunn vouched for the basic details of the candidate's account.
According to Townsend, the incident took place in Putnam County, N.Y., eight to10 years ago. He said it started when a volunteer on the campaign he was working said something to a reporter that "impugned my integrity." When Townsend read the remarks, he called up the volunteer.
"I took exception to it and we had a lively discussion over the phone," Townsend said. He noted that he was raised on a farm and, as such, used "barnyard language" during that discussion.
"I told him I was going to kick his backside, though I'm sure I used language a little bit more graphic," Townsend said.
The actual language is a matter for the imagination, but Townsend said the volunteer -- whose full name he claimed he could not recall -- "raised a ruckus" and brought the case before a local judge.
Townsend said he faced a misdemeanor charge of "second-degree harassment or something like that," and that it was thrown out.
Dunn also said the charge was dismissed.
It's unclear whether the explanation will satisfy Berntsen's campaign, which submitted a litany of questions last week for Townsend to answer about his arrest.
"He has no right to ask New Yorkers to consider his candidacy unless and until he comes clean on his arrest and the subsequent, alleged dismissal of the charges," Berntsen's campaign said in a statement. "While we've learned that around and about 10 years ago, Jay Townsend was acting like a football coach, Gary Berntsen was actually fighting against terrorism in Afghanistan and actually serving as CIA station chief in Latin America."
Berntsen spokesman Matt Richter said earlier Tuesday that Townsend had not directly responded to the campaign's questions. He warned that the issue could hurt him in the Sept. 14 primary.
Townsend disputed that, saying it's hardly come up at all since last week and that he's continued to rack up local endorsements.
The personal detail about Townsend's past has put a little space between the two candidates who are relatively aligned on most issues -- they both want to repeal the health care bill, they both want the Islamic center proposed near Ground Zero to be moved and they both think Schumer's doing a lousy job.
Not that Schumer's in much danger. Though the powerful incumbent has seen higher support in the past, polls over the past few months consistently show him leading either Republican candidate by double digits.
Fifty-five percent of voters said they'd re-elect Schumer, according to a Siena College poll conducted in July. Though a large majority of New York voters have no idea who either Republican candidate is, polls have shown Townsend leading Berntsen by anywhere from 5 to 11 percentage points.