52 Days to Decide: Nasty Exchanges Steal Spotlight in GOP Senate Primary in Delaware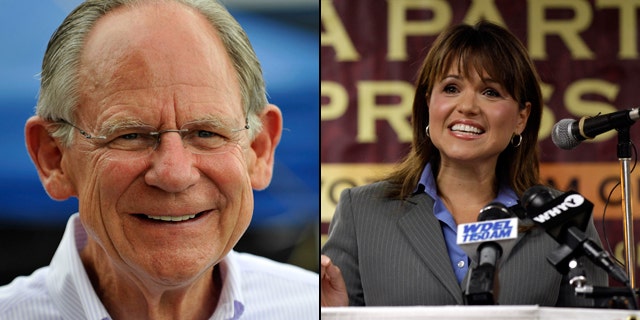 While there's primaries in seven states and Washington, D.C., on Tuesday, the race in Delaware between Tea Party darling Christine O'Donnell and longtime U.S. Rep. Mike Castle for the GOP Senate nomination is perhaps drawing the most attention for its increasingly nasty tone.
O'Donnell has derided Castle as an Obama Republican and repeatedly questioned his manhood. State Republican officials, who back Castle, have called O'Donnell a liar who has trouble paying her bills, misuses campaign funds and had made false statements about her education and the support she received in previous Senate campaigns.
Recent polling from Rasmussen Reports gives Castle a 30-point advantage. But some political analysts think O'Donnell can overcome the gap as she continues to pick up major endorsements from Sarah Palin, the National Rifle Association and conservative Republican Sen. Jim DeMint of South Carolina.
But O'Donnell's campaign is short on cash despite a pledge from the Tea Party Express to give $250,000. O'Donnell's campaign financial reports filed on Aug. 25 shows she raised about $260,000 total for her bid and had about $20,000 in the campaign bank account.
Castle, a nine-term member of Congress and a two-term governor, raised $3.2 million and had $2.6 million cash on hand. He is one of Washington's top recruits this election cycle and was presumed to be the strongest to face Democratic county executive Chris Coons in November for the Senate seat once held by Vice President Biden.
But the GOP, stunned by what happened in Alaska when Tea Party candidate Joe Miller upset Alaska Sen. Lisa Murkowski in the Republican primary there, is taking no chances in Delaware.
State GOP chairman Tom Ross has played the attack dog against O'Donnell, dismissing her as a perennial candidate unworthy of being elected dog catcher.
And on Thursday, the Delaware Republican Party filed a complaint with the Federal Election Commission accusing O'Donnell and the Tea Party Express of violating FEC rules that restrict coordination between candidates and outside political organizations.
The complaint, filed for the party by campaign finance lawyer and former FEC chairman Michael Toner, states that the Tea Party Express solicited donors to contribute to O'Donnell and that O'Donnell and the group worked jointly on advertising, breaching FEC regulations.
O'Donnell used the FEC complaint to challenge Castle's manhood.
"You know, these are the kind of cheap, underhanded, unmanly tactics that we've come to expect from Obama's favorite Republican, Mike Castle," O'Donnell told conservative radio host Mark Levin. "You know, I released a statement today, saying, 'Mike, this is not a bake-off, get your man-pants on.'"
While a debate in this race would have undoubtedly ignited fireworks, Castle has refused to face off with O'Donnell.
"Voters in Delaware have come to expect O'Donnell's misrepresentations of the congressman's record, the personal attacks on his family, and wild accusations," Castle campaign manager Mike Quaranta said in a statement.
"Castle is one of the most accessible legislators in the state and is engaged with voters every day. Christine has trouble with the truth and we aren't giving her a forum to further spread lies about Mike Castle," he said.
The Associated Press contributed to this report.