50 Years Later, Obama And Holder Celebrate RFK, As Holder Trumpets Political "Courage"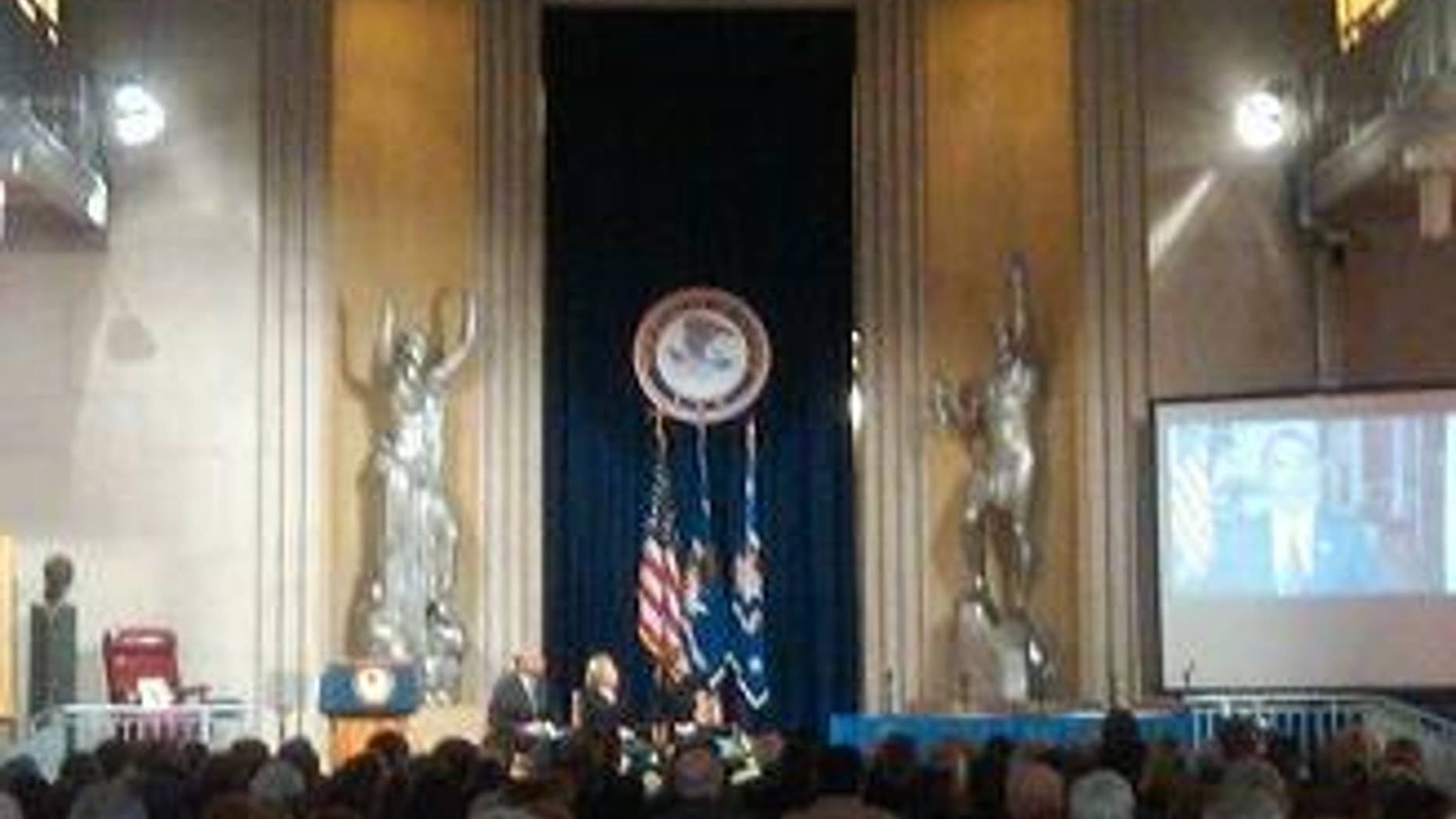 During a ceremony celebrating 50 years since Robert F. Kennedy became attorney general, President Barack Obama and the current attorney general praised Kennedy for his historic efforts on civil rights and urged even more progress "despite the obstacles before us and the cynics around us."
"Despite all that's been accomplished in recent decades, we still do not live in tranquil times," Holder told those gathered inside the Justice Department on Friday afternoon. "We continue to face difficulty, injustice, division and an array of challenges that serve to sharpen our skills, steel our resolve, focus our energy, and impel us to action. ... In times like these, the importance of Robert Kennedy's work becomes even clearer."
Holder's remarks were followed by a brief video message from President Obama, who said Kennedy's "passion" and "idealism" were "in line with today's Justice Department."
"In a violent time that revealed man's capacity to do harm, he never lost faith in our capacity to love," the president said. "He never lost his sense of possibility, his belief that we -- every single one of us -- can narrow the gap between the world as it is, and the world as it might be. ... Let's [now] refuse to accept things as they are."
As for Holder's remarks praising Kennedy, they were filled with lines that could be applied to many of the issues Holder himself faces today. Most notably, Holder described Kennedy's 1963 push to integrate the University of Alabama as "an act of courage."
"This was an act that had negative political consequences," Holder said. "It was not the easy or necessary thing to do, it was the right thing to do."
The same could be said for many of Holder's actions. His Justice Department has come under fire by some for its decisions over civil rights enforcement, but Holder said on Friday that he is driven only by justice and the law -- lessons he first learned from Kennedy.
Holder said "that famous stand in the schoolhouse door," when Alabama Gov. George Wallace tried to block two black students from enrolling at the University of Alabama on June 11, 1963, "served as my first lesson from Attorney General Kennedy," citing "the progress that it marked, the commitment that it signaled and the justice that it ensured."
"I learned that the law is not an abstraction. it is a powerful tool that can either put up walls or build bridges," Holder said. "It is a strong, deft instrument that affects the lives and circumstances of real people and real communities -- for good or for ilk. It is an effective means to transform our society into one that serves the interest of the many, or the few."
Five decades later, two attorneys who were with the Justice Department's Civil Rights Division under the Bush administration accused the Justice Department of being "hostile" toward "race-neutral enforcement" of voting rights laws. Justice Department officials, however, have repeatedly denied such allegations, pointing to, among other cases, the continued prosecution of a Democratic official in Mississippi who allegedly devised a scheme to disenfranchise white voters.
Still, Holder has also come under fire for his handling of national security matters, particularly his ill-fated decision to prosecute the five alleged 9/11 conspirators in a New York civilian court. Political pressure has since put that decision on hold, but Holder continues to defend the use of civilian courts as an effective counterterrorism tool, repeatedly emphasizing that the United States is "a nation of laws."
Asked in early December about his initial decision to prosecute the alleged 9/11 conspirators in a civilian court, Holder said he makes his decisions based on the facts and the law, and "irrespective of the political consequences."
"One only has to read the newspapers to see that the decisions that I make are not necessarily politically popular," he said. "I didn't go into this job with the thought that I was going to be necessarily a politically popular person. I went into this job with the thought that I was here to do justice, to protect the American people, and if that subjects me to political criticism, so be it."
On Friday, Holder said Kennedy "taught us that law can be a powerful force for good, if we are willing as he was to roll up our sleeves, to summon our courage and our best efforts, and to lead from the front-lines of change."
"Attorney General Kennedy championed the cause of the least among us, and made our nation more just, more fair, more humane," Holder said. "Let us act with optimism, without delay, and with adherence to the highest standards of professionalism -- the very standards that Attorney General Kennedy established."
In fact, Holder said, as a young, low-level attorney at the Justice Department in 1976, he "never imagined" he could one day become the head of the entire department.
"I know that I would not have had this extraordinary opportunity to serve were it not for the commitment and the courage of Robert Kennedy," Holder said. "He and leaders like him made it possible for someone like me -- an African-American kid from Queens [New York] -- to stand before you today as our nation's 82nd attorney general. I know from the core of my being that with this honor comes an obligation -- a duty to extend and strengthen the work that Robert Kennedy began here."
The ceremony featured a panel discussion with icons of the civil rights era, including Rep. John Lewis, D-Ga. Those in attendance at the "truly historic reunion," as Holder called it, included former attorneys general and a "cadre" of lower-level officials and aides who worked in Kennedy's Justice Department.
Kennedy was the nation's 64th attorney general, nominated by his brother, John F. Kennedy, and sworn-in on Jan. 21, 1961. Four years later he would become a U.S. senator, but he was killed in 1968 while running for the White House.