39 Days to Decide: Conflicting Polls Make New York Gubernatorial Race Tough to Handicap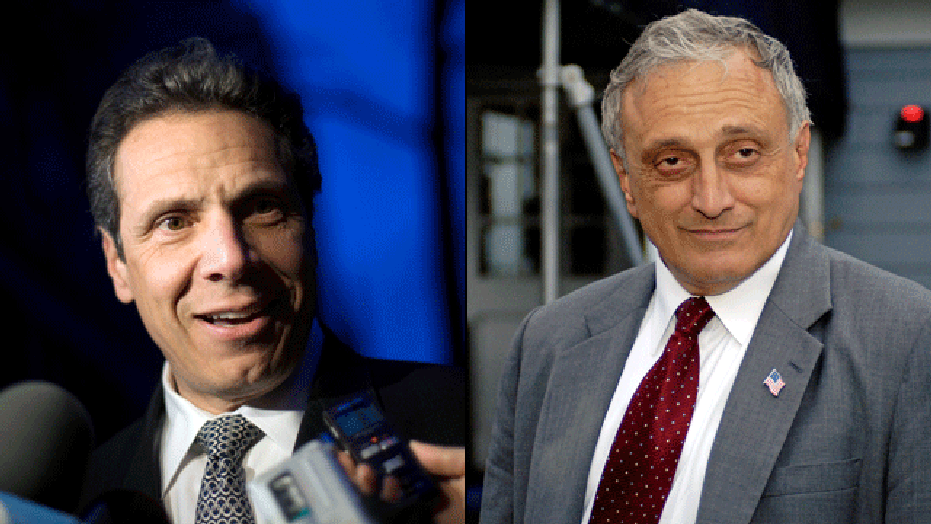 The New York gubernatorial race may be as erratic as it is ugly.
A series of polls released over the past week shows wildly different results in the bare-knuckle race between Democrat Andrew Cuomo and Republican Carl Paladino.
After Paladino, a Tea Party-backed developer, won the GOP nomination last week and set out on an underdog campaign against the well-funded state attorney general, a poll released Wednesday showed Paladino with surprising support.
The Quinnipiac University survey showed Paladino trailing Cuomo by just 6 percentage points, boosted by a four-to-one advantage among Tea Partiers. The poll showed Cuomo leading 49 percent to 43 percent.
But then two subsequent surveys showed Cuomo crushing his competitor. A Siena College poll out Thursday showed Cuomo beating Paladino 57 percent to 24 percent. A Marist Poll released Friday showed Cuomo leading 52 percent to 33 percent.
Despite the fluctuation, both candidates already are engaging each other. Cuomo took his first direct swipe at Paladino in a television ad released Thursday in which the campaign accused Paladino of donating nearly a half-million dollars in political contributions to win benefits like a $1.4 million tax break. The ad labeled him "a welfare king who got rich by milking New York taxpayers."
Paladino meanwhile accused Cuomo of lying after his opponent retracted his claim that he had voted for New York Mayor Michael Bloomberg.
Cuomo made the original claim during a Wednesday news conference where he was announcing Bloomberg's endorsement. "Have I voted for the mayor? Yes," he said.
But Cuomo had endorsed Democrat Freddy Ferrer against Bloomberg in 2005 and Democrat Bill Thompson in the latest race -- the campaign later claimed the attorney general misspoke.
"Either way, he lied and voters are tired of career politicians' lies," Paladino said.
The intensity kicked up almost immediately after Paladino scored an upset win over Rick Lazio in the GOP primary -- on the same day Tea Party-backed outsider Christine O'Donnell pulled out an upset over Rep. Mike Castle for the Delaware GOP Senate nomination.
Though O'Donnell and Paladino enter the November race once again with underdog status, Democrats are sure to be watching the polls closely for signs of a surge. Nevada Republican Senate candidate Sharron Angle has pulled even with Senate Majority Leader Harry Reid in their race, despite a perception earlier in the year that she would be at a disadvantage.
The latest New York polls showed a deep partisan divide in the gubernatorial race -- though the Marist poll showed Cuomo with more crossover appeal. That poll showed Cuomo pulling 19 percent among likely GOP voters and Paladino pulling 11 percent among Democratic voters.
Lazio, still on the ballot as a Conservative candidate, pulled in 9 percent.
The Marist poll of 617 likely voters was taken Sept. 19-22 and had a margin of error of 4 percentage points.
The Siena poll of 801 voters was taken over five days after the Sept. 14 primary and had a margin of error of 3.5 percentage points.
The Quinnipiac poll of 751 likely voters was taken Sept. 16-20 and had a margin of error of 3.6 percentage points.
The Associated Press contributed to this report.