18 States Opt Against Managing New Federal High Risk Insurance Pool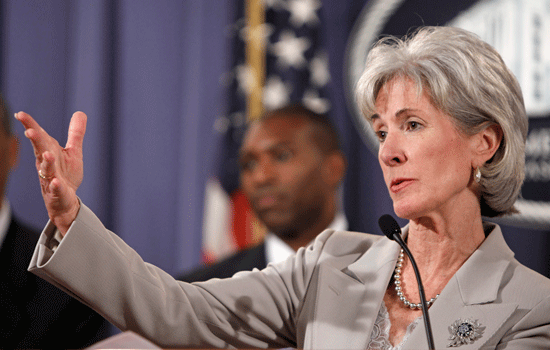 Eighteen states have rejected the federal government's offer to operate or set up a new and temporary high-risk pool providing insurance to individuals with preexisting conditions -- a program that some states say isn't adequately funded by Congress.
The rejection forces the federal government to set up and manage the high-risk pools in those states. Twenty-nine states plus the District of Columbia have agreed to run the program themselves.
The health care law allocates $5 billion for high risk pools that must be established within 90 days of the law's enactment in March, or July 1, to give people with preexisting conditions "immediate access to insurance."
The $5 billion will be phased out in 2014 when insurance companies will be banned from dropping coverage to people with pre-existing conditions.
But some analysts and state officials believe the funding is not enough and could leave states on the hook once the federal funds run dry.
The Centers for Medicare and Medicaid Services chief actuary has estimated that the $5 billion allocated for the high risk pools could run out as soon as next year.
But the Obama administration dismisses the prediction.
"I think it's premature to speculate on money running when the programs have not been set up yet," an official familiar with program told FoxNews.com..
Last month, Health and Human Services Secretary Kathleen Sebelius asked all 50 state governors and insurance commissioners to notify her by April 30 on whether they would manage or set up their own high-risk pool or let HHS do it.
Arizona is the only state undecided. Rhode Island and Utah have requested an application but haven't made a final decision yet.
"We are gratified by the response we have seen from the states regarding this important provision of the Affordable Care Act and look forward to working together to provide people who have been denied coverage for so long, access to some much needed relief through the creation of temporary high-risk pools," HHS spokesman Jenny Backus said in a written statement.
"Whether states create these pools or the federal government creates them for states, the pools will be paid for by 100 percent federal dollars and most importantly -- uninsured people around the country will soon have access to another affordable coverage option," she said.
The states that opted against managing their own programs are: Alabama, Delaware, Florida, Georgia, Hawaii, Idaho, Indiana, Louisiana, Minnesota, Mississippi, Nebraska, Nevada, North Dakota, South Carolina, Tennessee, Texas, Virginia, Wyoming.
Texas Gov. Rick Perry cited the lack of program rules or reliable federal funding for refusing to operate the high-risk pool at the state level.
"I do not believe the aggressive implementation and the lack of assurances on financial solvency of the program are in the best interest of Texas taxpayers, families, patients or health care providers," Perry said in a letter to Sebelius.
Idaho Gov. C.L. "Butch" Otter said the state "cannot afford to subsidize a second high-risk pool program, especially during these difficult times."
He said the federal program would provide coverage at standard rates for individuals with pre-existing conditions, which is 25 percent less than the premiums paid by Idaho residents enrolled in the state's high-risk pool.
Otter said the federal program's pricing disparity will "penalize Idahoans who have been sacrificing and doing the right thing by enrolling in Idaho's high-risk pool, and as result are ineligible to participate in the federal plan."
"Somebody will have to pay for that subsidy, and it's going to be taxpayers," Otter said. "We continue to question the constitutionality of this law and remain concerned about the cost imposed on the citizens of Idaho."