Opinion: FIFA Qualifiers for Women's World Cup tell us lots needs to be done on the female soccer field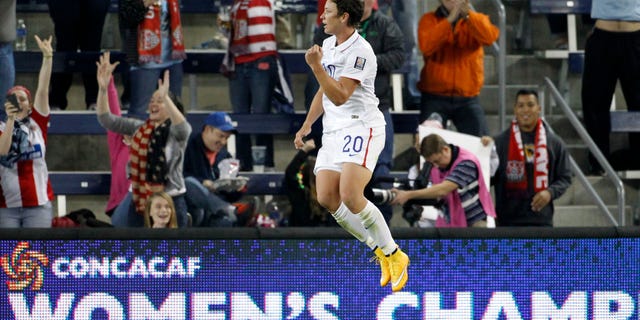 NEWYou can now listen to Fox News articles!
This past weekend we enjoyed watching the FIFA Qualifiers for the 2015 Women's World Cup, an event that will bring some of the best female players together under one stage. While women's soccer has evolved over time, there's still work to be done to elevate the female role in sports and society.
In September 2013, Harvard Business Review dedicated an entire issue to the challenges and barriers facing women as it pertains to leadership roles despite countless studies showing that businesses generally perform better in the marketplace with a diverse leadership team. The question raised centered around the variables restricting women from taking leadership positions in our society. Women still don't get the same opportunities to develop these skills in society or in the workplace. This issue transcends beyond the "traditional" workplace, and into the world of sports.
I hope that as a society we can teach our future generations that the lessons to be learned from playing soccer or any sport are larger than the sport itself.
The difference is apparent when you compare a female athlete with their male counterparts — a female must overcome more obstacles to be seen as a leader and paid accordingly for their performance on the field. Many times, female athletes must also take part in marketing and advertising campaigns that focus on their physical attributes in order to sustain their careers.
On the positive side, sports whether played professionally or as a hobby can teach both, men and women, teamwork, discipline and leadership. Take women's soccer for instance which has had a great impact in the United States particularly after the 1999 World Cup. Athletes such as by Mia Hamm, Abby Wambach, Julie Foudy, Brandi Chastain, and now Alex Morgan, Hope Solo and Megan Rapinoe are helping to change the landscape and position themselves as leaders in the space while representing their country, and inspiring others. They have been key figures in helping to popularize the sport in the United States, a country where the sport has not tracked in the same manner as it does in Latin America, and attracted a larger female fan base than male in the beginning.
It is not only extremely important to continue cultivating support for women's soccer to help our societies develop strong, self-sufficient young women who will contribute positively to society but to help improve diversity in the workplace. If businesses with diverse leadership teams develop at a higher rate, wouldn't societies that embrace diversity work better together? It is only through diversity that we learn to see the world from a different angle, which, in my experience is healthy and inspires growth.
Growing up as a "Sports Billy," always picking to play sports over dolls, and having played soccer my entire life, I can honestly say that through sports I learned some of the most valuable lessons and values I practice to date. I hope that as a society we can teach our future generations that the lessons to be learned from playing soccer or any sport are larger than the sport itself.