Booze, babes, and bowling – how West Point recruited 14 football prospects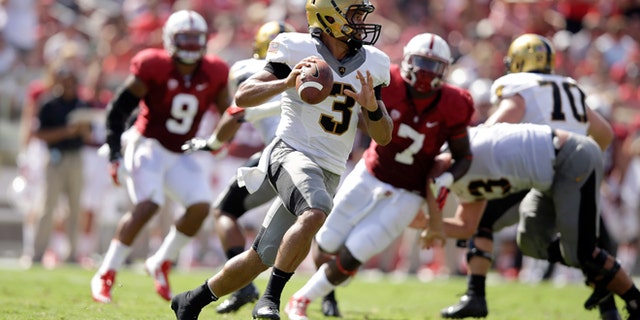 NEWYou can now listen to Fox News articles!
At many universities with big-time athletic programs you might not be surprised to hear about boozy parties on a bus, cash from alums and face time with school cheerleaders being used to recruit football prospects.
But at West Point?
The Gazette of Colorado Springs received a tip along with documentation claiming a number of recruiting violations by the U.S. Military Academy at West Point, N.Y.
At first the paper thought the tipster might be a collegiate prank, given that Army (2-5) plays Air Force (5-2), whose academy is in Colorado Springs, on Nov. 1.
But the USMA acknowledged the account, which the paper published on Sunday, saying that the Academy self-reported the recruiting violations to the NCAA, disciplined 20 cadets and reprimanded two officers as well as a couple of coaches.
"As Superintendent, I take full responsibility for all actions that occur here at West Point…" Army Lt. Gen. Robert L. Caslen, Jr. said in a statement. "I am fully committed to the values of West Point in all of our cadets and in all of our programs, and will ensure they are upheld to the highest of standards."
Apparently, in January, 14 potential recruits were taken on a bus trip down the Hudson River valley from West Point to the Palisades Mall, accompanied by members of the football team as well as two female cheerleaders.
The bus, which received a military police escort, stopped off at a bowling alley with a bar and cadets purchased large quantities of alcohol.
According to an internal West Point report, on the way back the trip consisted of "the [charter] bus driver allowing the music to play very loudly, dancing in the aisles, strobe lights flashing iPhones to reflect the club-like atmosphere."
At some point the two cheerleaders began making out with each other, and also kissed a football player and a recruit.
The school found out about the trip, as well as other instances of cheerleaders and female cadets being set up as dinner dates for recruits, in March, and the football players involved, which include Army's starting quarterback, Angel Santiago, a senior from Fontana, Calif., were held out of the team's spring practice game as a result. The cadets also lost their rank and opportunities for leadership positions.
"Although seen as a minor infraction by the NCAA," the Academy said in a statement, the school "takes this very seriously and adjudicated this at the highest level of the disciplinary code."
Ret. Army Major Dwight Mears, a graduate of West Point who went on to teach history there told the Gazette, "That's not shocking, considering in the past the academy has basically waived its own administrative procedures to keep players on the field."
Follow us on twitter.com/foxnewslatino
Like us at facebook.com/foxnewslatino