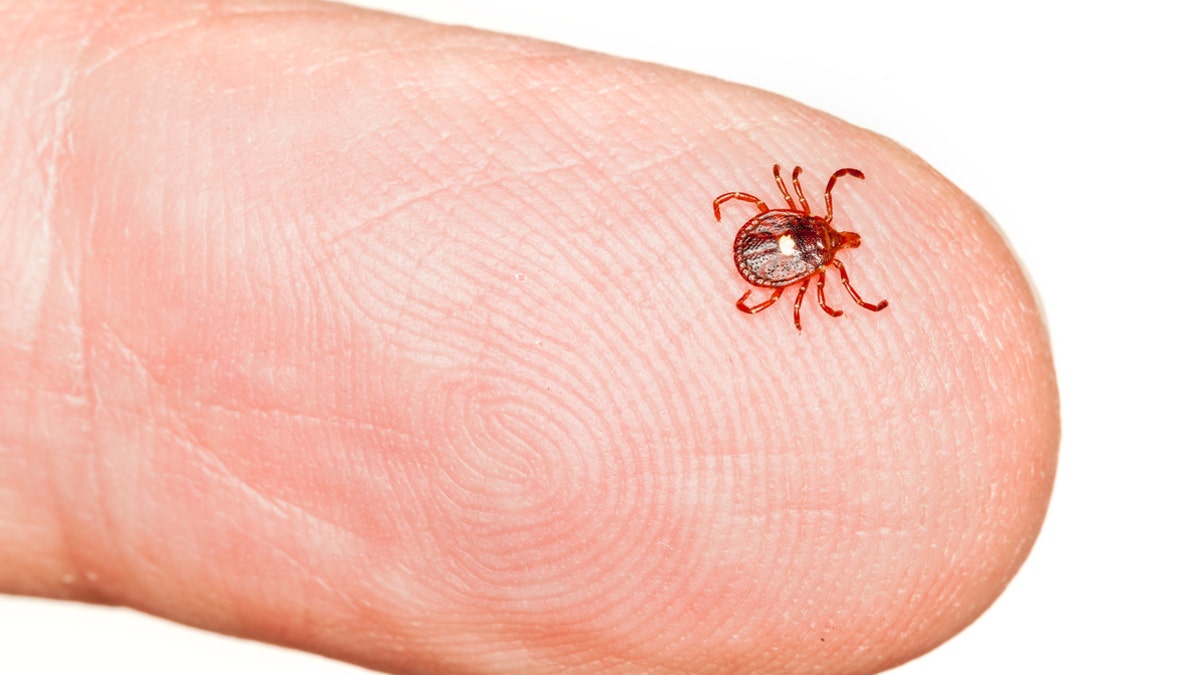 The family of a Missouri woman who died from a rare tick-borne illness is speaking out about the dangers of the virus, which has only been confirmed in a handful of patients since it was discovered in 2014. Tamela Wilson, who died June 23 of complications stemming from Bourbon virus, had worked at Meramec State Park in Sullivan, and removed two ticks from her body a few weeks prior to falling ill, The St. Louis Post-Dispatch reported.
The 58-year-old woman's stepmother, Kathy Potter, said doctors didn't know to test for the disease, and diagnosed her with a urinary tract infection before sending her home with antibiotics.
EXACTLY WHAT TO DO IF YOU GET A TICK BITE
"Every day we'd go to the hospital and she'd get worse," Geoff Potter, another relative, told Fox 6 Now. "No improvement."
She was eventually admitted to Barnes-Jewish Hospital on May 31, and her blood was tested for other tick-borne illnesses before being sent to the Centers for Disease Control and Prevention (CDC), which confirmed Bourbon virus, The St. Louis Post-Dispatch confirmed.
There currently is no medicine to treat Bourbon virus, and some patients may require hospitalization for some symptoms. According to the CDC, because there have only been a few cases of the virus identified, the medical community is still learning about potential symptoms, but patients may experience fever, tiredness, rash, headache, body aches, nausea and vomiting. They may also present low blood cell counts.
POWASSAN VIRUS: POTENTIALLY FATAL TICK DISEASE THAT CAN BE TRANSMITTED IN MINUTES REPORTED IN MAINE
Wilson's daughter, Amie May, said her mother developed secondary infections including pneumonia and hemophagocytic lymphohistiocytosis. It was also revealed that she had been receiving treatment for non-Hodgkin's lymphoma since 2012.
"You wouldn't want this for your worst enemy," Kathy Potter told Fox 6 News.
May said her mother was working full time as an assistant superintendent at the park, which was declared "an area of interest" by the state Department of Natural Resources a week after Wilson's death. The department was collecting ticks to test for the virus, The St. Louis Post-Dispatch reported.
"I want people to know it's out there," May told the news outlet. "We have a virus that doesn't have a cure, and that's scary."
TICK-BORNE DISEASES ON THE RISE
Wilson's case marks the first reported in Missouri, the state has been dealing with a rash of Rocky Mountain spotted fever and Ehrlichiosis cases, prompting health officials to warn about the dangers of tick bites.
"This is an opportunity to say there are things we face every day that are much more of a problem," Dr. Steven Lawrence, an infectious disease specialist, told The St. Louis Post-Dispatch. "I see patients who get sick and die from tick-borne infections that could be prevented if people treated it early and doctors recognized it."