With New Hearing Device, Guatemalan Boy Hears Mother's Voice For First Time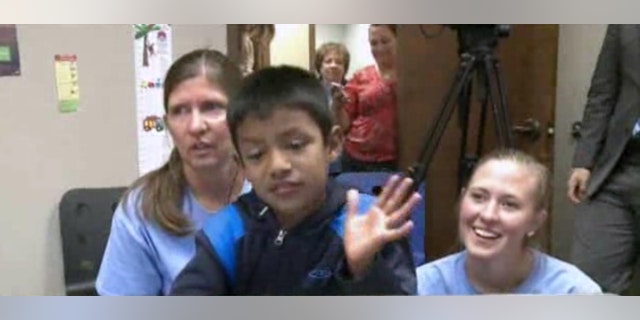 This week, a 7-year-old boy from Guatemala heard for the first time in his life, and it's all thanks to a non profit organization and a woman from Grand Rapids, Michigan.
Wane.com reports that it all started three years ago, when West Michigan native Erin Van Oordt went on a mission trip to Guatemala, where she met a little boy named Jenri.
"There was something special about him from the beginning," Van Oordt said. "I started talking to him, and he couldn't hear me. I knew my Spanish wasn't that bad, so I started asking around and they said he hasn't heard since he was little. I said we need to figure this out, and that's when we started the whole process."
Van Oordt went on to develop a relationship with Jenri and his family and began a new mission to help the little boy hear. She enlisted the help of Ray of Hope Medical Missions, a not-for-profit group in Fort Wayne, who, after hearing Jenri's story, say they just had to help out.
"A couple of local doctors here had worked with Ray of Hope and they contacted me," Ghent said. "I had one phone call with Erin, and I was on board."
It was a process to get Jenri to America on a Medical Visa. To get him here, everything down to the medical equipment for the procedure needed to be a donation. The $40,000 equipment was donated by Advanced Bionics, a doctor at Lutheran Hospital did the procedure, and a doctor from Focus Audiology and Hearing Services helped with the hearing device.
On Monday, Jenri's cochlear implant was activated, and he Skyped with his family in Guatemala to hear their voices for the first time in his life.
Jenri will spend several more months in America to work on his speech and understanding his new ability to hear.
While the whole thing was an involved process, Erin Van Oordt says it was definitely worth it.
"I had a flashback to the first time I met him, when he couldn't hear me, and he could this time. Everything we've done in the past three years came flooding back. It was all worth it," says Van Oordt.
For more Michigan-area news, check out www.Fox17online.com
Follow us on twitter.com/foxnewslatino
Like us at facebook.com/foxnewslatino