Which Doctor? More Latino MDs Needed To Care For Growing Hispanic Community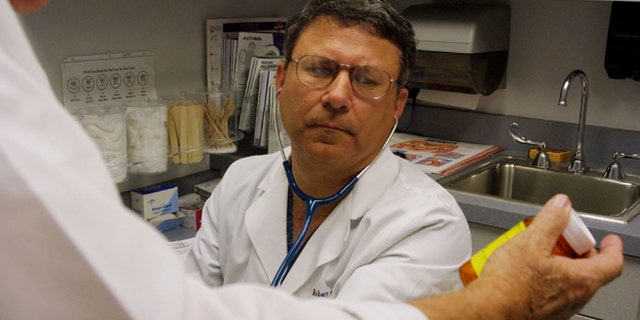 Despite nearly 17,000 U.S. medical students slated to graduate in the next few weeks, some analysts worry that by the end of the decade there will be a shortage of more than 90,000 physicians in the country and that the diversity level of those who are working will be underwhelming.
Latinos make up 17 percent of the total U.S. population but only 5.5 percent of the physicians who graduated from U.S. medical schools between 1978 and 2008. It isn't for lack of candidates. The number of Latino applicants has tripled in the last 30 years, but the number of those who enroll in medical school and go on to graduate has stayed flat.
"The problem is multifaceted," wrote Paloma Toldeo, an assistant professor of anesthesiology at Northwestern University, in the online magazine Quartz. "Talented Hispanic students may be choosing not to pursue a career in medicine, applicants to medical school are not competitive enough to be admitted, and once in medical school, a percentage of Hispanic students choose to leave, thus, creating a workforce gap."
One of the main reasons, Toledo wrote, that many Latino and other minority students are shying away from choosing medicine as a profession is the high cost. The Association of American Medical Colleges estimates that the average cost for a public medical school is $56,000 a year and $74,000 for a private school.
While those Latinos who do enter medical have a very low dropout rate – less than 4 percent – the need for doctors who speak Spanish and who are members of the Hispanic community continues to grow along with the overall Latino population.
"Minority patients are more likely to choose a minority physician, and to report greater satisfaction with their care," Toledo wrote. "This may be in part because physicians who are of the same race and ethnicity as their patient have better communication with minority patients than physicians who are not of the same racial/ethnic group."
According to study by the Institute of Medicine of the National Academy of Sciences, a more diverse medical workforce would also improve the disparity in health care. Toledo added that it is crucial to have more Latino medical professionals to help with the millions of newly-insured patients now covered by the Affordable Care Act.
"The health of the Hispanic community depends on not only policy change at the institutional level to ensure a diverse workforce," she wrote. "But also at the individual level by both encouraging promising students to enter a career in medicine, but also in ensuring that Hispanic students succeed once in medical school."
Follow us on twitter.com/foxnewslatino
Like us at facebook.com/foxnewslatino