Wearable device helps reduce low blood sugar episodes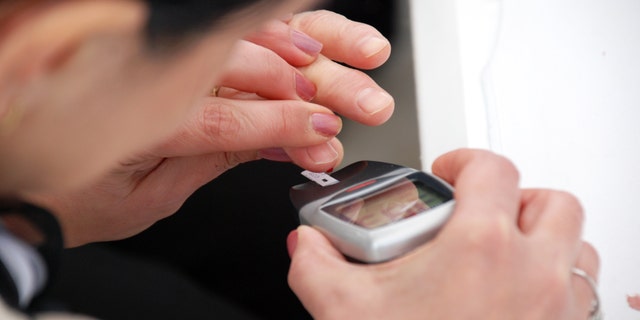 NEWYou can now listen to Fox News articles!
NEW YORK – A new "flash" blood sugar monitoring system cuts down on episodes of low blood sugar in people with type 1 diabetes, researchers say.
Low-blood sugar, or hypoglycemia, can be dangerous in diabetics. Sometimes called an insulin reaction, or insulin shock, severe cases of hypoglycemia can lead to unconsciousness and seizures.
The new Freestyle Libre sensor, a small device that's worn on the upper arm, automatically checks blood sugar every 15 minutes and stores the information. A separate reader device, when held close to the sensor, can display current glucose level, glucose readings over the past 8 hours, and whether glucose has been rising or falling. This can be repeated as often as desired.
Patients' "marked increase in self-monitoring frequency" after they started using the Freestyle Libre device "resulted in an almost immediate reduction in hypoglycemia both during day- and night-time," Dr. Jan Bolinder from Karolinska University Hospital in Stockholm, Sweden told Reuters Health by email.
Dr. Bolinder and colleagues from 23 European hospitals compared the new glucose monitoring technology to conventional self-monitoring of blood glucose for prevention of hypoglycemia in 239 adults whose type 1 diabetes was already well controlled.
They randomly assigned patients to use one technique or the other, and they focused on the amount of time patients' blood sugar was low over a 24-hour period.
This "time in hypoglycemia" decreased by 38% - from almost 3.5 hours per day to 2 hours per day - with the new monitoring system, but it barely changed in the group that continued to use conventional self-monitoring.
In fact, all measures of low blood sugar were significantly better with flash glucose monitoring both during the day and overnight.
According to the September 12th report in The Lancet, time spent with high blood sugar was also reduced to a greater extent in patients in the flash monitoring group than with conventional monitoring.
The researchers think these improvements resulted from increased attention to blood glucose levels. Patients in the flash monitoring group checked their blood sugar an average of 15 times a day, compared with only about six times a day in the conventional monitoring group.
The reductions in time spent in hypoglycemia and hyperglycemia (high blood sugar) did not translate into differences in hemoglobin A1c levels, insulin doses, or quality-of-life between the groups, however.
"For many individuals, hypoglycemia is a barrier to optimum glucose control," the researchers conclude. "Novel sensor-based systems to monitor glucose hold great promise as an effective alternative to conventional self-monitoring of blood glucose."
"My guess is that this type of device will replace conventional (finger-prick) self-monitoring of capillary blood glucose in subjects with insulin-treated diabetes in the near future," Dr. Bolinder said.
Dr. Roman Hovorka from the University of Cambridge in the UK, who coauthored a commentary published with the study, told Reuters Health, "For those who are very well controlled, wearing Libre reduces hypoglycemia and promotes frequent glucose monitoring. The device tends to be (nearly) cost neutral - this is great benefit driving adoption even if not reimbursed."
The Freestyle Libre sensor is manufactured by Abbott and is presently available only in Europe, although the company is working to get it approved in the United States. Abbott sponsored the study and has financial relationships with all of the researchers.