Viral video shows preschool teacher agreeing to donate kidney to dying student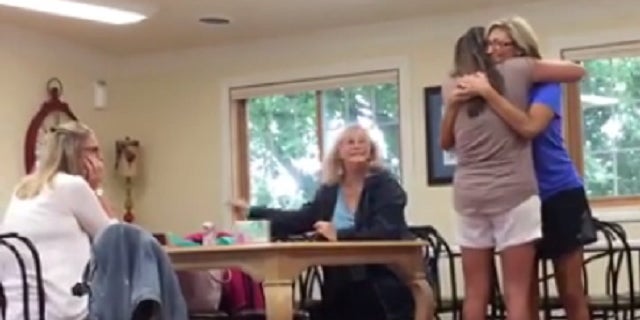 NEWYou can now listen to Fox News articles!
A video of a preschool teacher agreeing to donate one of her kidneys to a dying student is tugging at heartstrings across the nation.
The footage shows Beth Battista hugging Dena Carreyn, of Madison, Wisconsin, whose 4-year-old daughter Lyla has a rare autoimmune-related vasculitis called Microscopic Polyangiitis (or MPA), which causes damaging kidney failure, FOX NEWS Insider reported. Battista hands Carreyn a box with a note inside that reads: "I may just be her teacher now, but soon a little piece of me will be with Lyla forever. I'm Lyla's kidney donor."
Over the summer Carreyn began a nationwide search for a kidney match to help her dying daughter, and earlier this month she learned Battista was a match and would be offering the donation.
On Facebook, Carreyn wrote: "Many people think teachers are heroes. Beth Battista is more than our hero; she is our miracle."
Since Carreyn posted the video on Facebook on Sept. 15, it had garnered more than 51,000 views as of Tuesday morning.