New Jersey dad pens touching letter after autistic son says he has no friends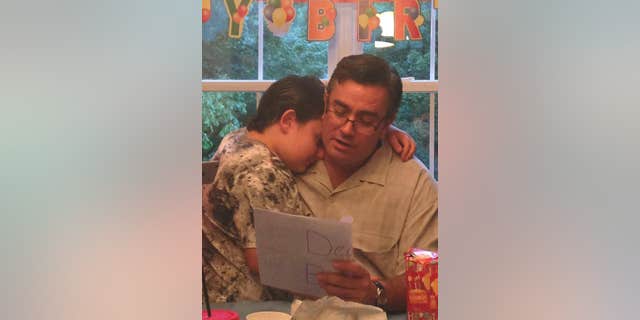 A New Jersey dad's heartbreaking appeal to parents of his autistic son's classmates has gone viral after a back-to-school project revealed the boy has no one to call a friend.
Bob Cornelius, of Rockaway, N.J., posted the letter Monday on Facebook after taking a photo of a worksheet that his son filled out at school. The worksheet asked students to list the members of their family, as well as their favorite food, sport, TV show, sport, song, and more. The sheet also asked students to list some of their friends— a section that 11-year-old Christopher answered with "No one." It wasn't until Cornelius returned home and looked at the picture he'd taken hurriedly that he realized what his son had wrote.
"Christopher's brothers have had many, many sleepovers over the years, obviously in front of him, and it has not gone unnoticed," Cornelius wrote in the post. "'Can I have sleepover?' Christopher has asked. 'Sure, buddy....with whom?' As a response, he would flap his arms and stim instead of [answering]. He didn't have an answer because he didn't have a name. Because he didn't have a friend. He's never had a friend. Ever. He just turned 11. And because he's had no friends....there was no one to invite."
In the post, Cornelius urges parents to encourage their children to be compassionate and empathetic, and to share the post on their Facebook timelines to increase awareness. He also asks them to speak with their children and educate them about inclusivity.
He references other, similar viral posts, including the photo of Florida State University wide receiver Travis Rudolph eating with Bo Paske, an autistic boy who had been sitting alone in the cafeteria while the football team was visiting his middle school. Since being posted Aug. 30, the video had been shared more than 15,000 times as of Friday morning.
"These stories are newsworthy because they are unusual," Cornelius writes in the post. "We are not used to hearing about kids being kind to those that are different and unique."
"I [am] not so naive that I think this post is going to change the world," he continues. "But, if, by sharing this, I can make you think about having a conversation with your children about empathy, about going out of their way to include those that are different from everybody else, especially if it goes against the group mentality, especially if it's not socially poplar (I'm not so old that I don't remember that this takes bravery...bravery to break from the confines of what your friends think is cool in the middle and high school worlds), then I will feel like Christopher's voice has been heard."
Since being posted Monday, the post had been shared nearly 21,000 times as of Friday morning.