USDA Connected Salmonella to Cargill Plant Two Weeks Ago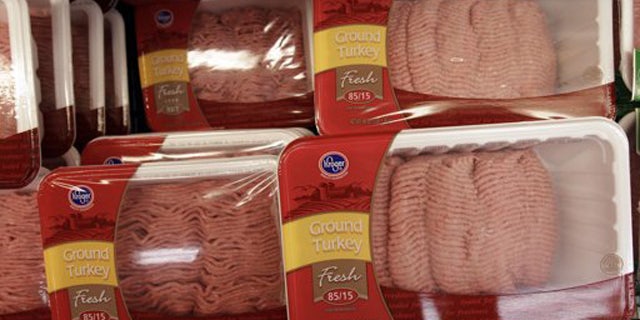 NEWYou can now listen to Fox News articles!
Federal health officials say they knew more than two weeks ago that the source for the salmonella outbreak linked to ground turkey was most likely connected to the Cargill meat plant in Springdale, Ark., but they were unable to issue a recall because they simply did not have enough information.
At a press conference Thursday afternoon, officials with the Centers for Disease Control and Prevention and the U.S. Department of Agriculture said they began "traceback activities" related to tainted ground turkey on July 18.
"There were two cases in the same state, and in two days we were able to confirm that the two cases were related to the plant," said Dr. David Goldman, an assistant administrator for the office of Public Health Science at the USDA-Food Safety and Inspection Service.
But, Goldman pointed out, before a recall can be issued there are a lot of bases officials need to cover.
"We need to coordinate the findings on traceback to findings at the plant. We get information provided to us from the inspection force in the field, and we need to ensure everything has lined up in a way that convinces us," he said.
Officials became convinced on July 29, and contacted the legal team at the Minnesota-based company to have a preliminary discussion with them about their findings, but it wasn't until Wednesday that the meat giant was presented with the "full facts" that the CDC and USDA had uncovered.
As a result, Cargill issued one of the biggest meat recalls ever – pulling 36 million pounds of fresh and frozen turkey products off store shelves, which were produced at the Springdale plant from Feb. 20 through Aug. 2.
All of the packages recalled include the code "Est. P-963," according to Cargill, though packages were labeled under many different brands. Many of the recalled meats are under the label Honeysuckle White. Other brands include Riverside Ground Turkey; Natural Lean Ground Turkey; Fit & Active Lean Ground Turkey; Spartan Ground Turkey and Shady Brook Farms Ground Turkey Burgers. The recall also includes ground turkey products packaged under the HEB; Safeway; Kroger; Randall's; Tom Thumb and Giant Eagle grocery store brands.
The recall also includes some ground turkey that isn't labeled at all and some that went to food service establishments, according to Cargill.
Illnesses in the outbreak date back to March and have been reported in 26 states coast-to-coast. As of Tuesday, there were 78 cases and one death linked to the outbreak.
In announcing the recall, Cargill officials said all ground turkey production has been suspended at the Springdale plant until the company is able to determine the source of the contamination.
"Given our concern for what has happened, and our desire to do what is right for our consumers and customers, we are voluntarily removing our ground turkey products from the marketplace," said Steve Willardsen, president of Cargill's turkey processing business.
A chart on the CDC's website shows cases have occurred every month since early March, with spikes in May and early June. The latest reported cases were in mid-July, although the CDC said some recent cases may not have been reported yet. The CDC said the strain is resistant to many commonly prescribed antibiotics, which can make treatment more difficult.
Dr. Chris Braden, director of the division of Foodborne, Waterborne, and Environmental Diseases at the CDC said out of the 78 people that have been sickened, 22 people, or 38 percent have been hospitalized, which are higher numbers than normal.
"We are working to explore why this may be," Braden said. "We know the strain is resistant to several antibiotics, which may increase hospitalization and failure of treatment."
Braden said the good news is that this strain, known as Salmonella Heidelberg, does respond to several other commonly used antibiotics such as Cipro and Bactrim.
The states reporting the highest number sickened are Michigan and Ohio, with 10 each. Texas has reported nine illnesses; Illinois, seven; California, six; and Pennsylvania, five.
Twenty states have one to three reported illnesses linked to the outbreak, according to the CDC. They are Alabama, Arizona, Georgia, Iowa, Indiana, Kentucky, Louisiana, Massachusetts, Minnesota, Missouri, Mississippi, North Carolina, Nebraska, Nevada, New York, Oklahoma, Oregon, South Dakota, Tennessee and Wisconsin.
The CDC estimates that 50 million Americans each year get sick from food poisoning, including about 3,000 who die. Salmonella causes most of these cases, and federal health officials say they've made virtually no progress against it.
Government officials say that even contaminated ground turkey is safe to eat if it is cooked to 165 degrees. But it's also important that raw meat be handled properly before it is cooked and people wash their hands with soap for at least 20 seconds before and after handling the meat. Turkey and other meats should also be properly refrigerated or frozen and leftovers heated.
The most common symptoms of salmonella are diarrhea, abdominal cramps and fever within eight to 72 hours of eating a contaminated product. It can be life-threatening to people with weakened immune systems.
"It is regrettable that people may have become ill from eating one of our ground turkey products," said Willardsen -- "and, for anyone who did, we are truly sorry."
Click for more information from the CDC.
The Associated Press contributed to this report.