UK woman claims eyelash extensions blinded her for 2 hours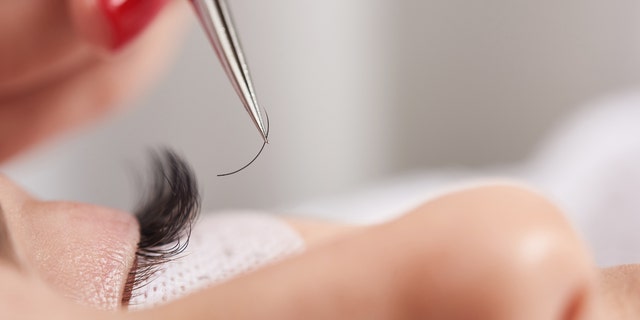 A 20-year-old student's warning about low-quality eyelash extensions has gone viral after the U.K.-based woman claimed a reaction to the glue her salon used caused her to temporarily lose sight in her eye. Megan Rixson, who posted a video of swollen and tearing eyes on Twitter, said that her eyes are still recovering, and that they're still very sensitive and sore more than a week after the fiasco.
"Girls be very very careful where you get your eyelashes done!!" she tweeted on Oct. 19. "I got my individuals done today somewhere new and it turns out they used nail glue on my lashes. I genuinely lost my sight for 2 hours. Thankfully the swelling has gone down, but there [SIC] still very sore. Be careful."
Her tweet generated thousands of responses, with some users sharing their own tragic experiences.
FLORIDA NEWLYWED DISCOVERS FLY LIVING IN SKIN 2 MONTHS AFTER BELIZE HONEYMOON
"Once I got mine done and the glue burned my eyes and the side of my skin. The lashes didn't even last a week!!!! It's so scary to have something happen with your eyes!" one Twitter user wrote.
Another posted photos of her own painful experience and said Rixson's video gave her PTSD. A commenter who said she was a lash technician said seeing her post was "beyond upsetting" and that it "should never happen."
According to the American Academy of Ophthalmology, there are three types of eyelash extensions, identified as synthetic, silk and mink. They are typically applied in a salon-type setting by a technician using tweezers and a special, semi-permanent glue. The AAO said the eyes should remain shut during the process, and that the lashes typically last about three to four weeks.
Risks associated with the procedure include trauma to or infection of the eyelid or cornea, allergic reaction to the glue, and permanent or temporary loss of eyelashes. A spokesperson for AAO said that inadequate hygiene in the shop can add to these risks, and that allergic reactions to the glue may trigger pain, itching, redness and swelling, and could temporarily interfere with vision.
WOMAN WHO HAD BELLY BUTTON REMOVED 'REGRETS' PROCEDURE
Rixson told Buzzfeed News that she felt the pain immediately after the technician began applying the lashes, but that "she kept telling me to hold them open. After she was done I sat up on the bed and couldn't open them. I said 'This isn't normal,' but she kept saying it was."
She said she visited a walk-in health clinic and was given eye drops and eyewash.
"My first bit of advice would be, make sure you always carry out a glue test," Rixson told Buzzfeed News. "And second of all, ask the beautician what glue they use, ask to see it."