Two Texas siblings reunited after car crash that killed parents, baby sister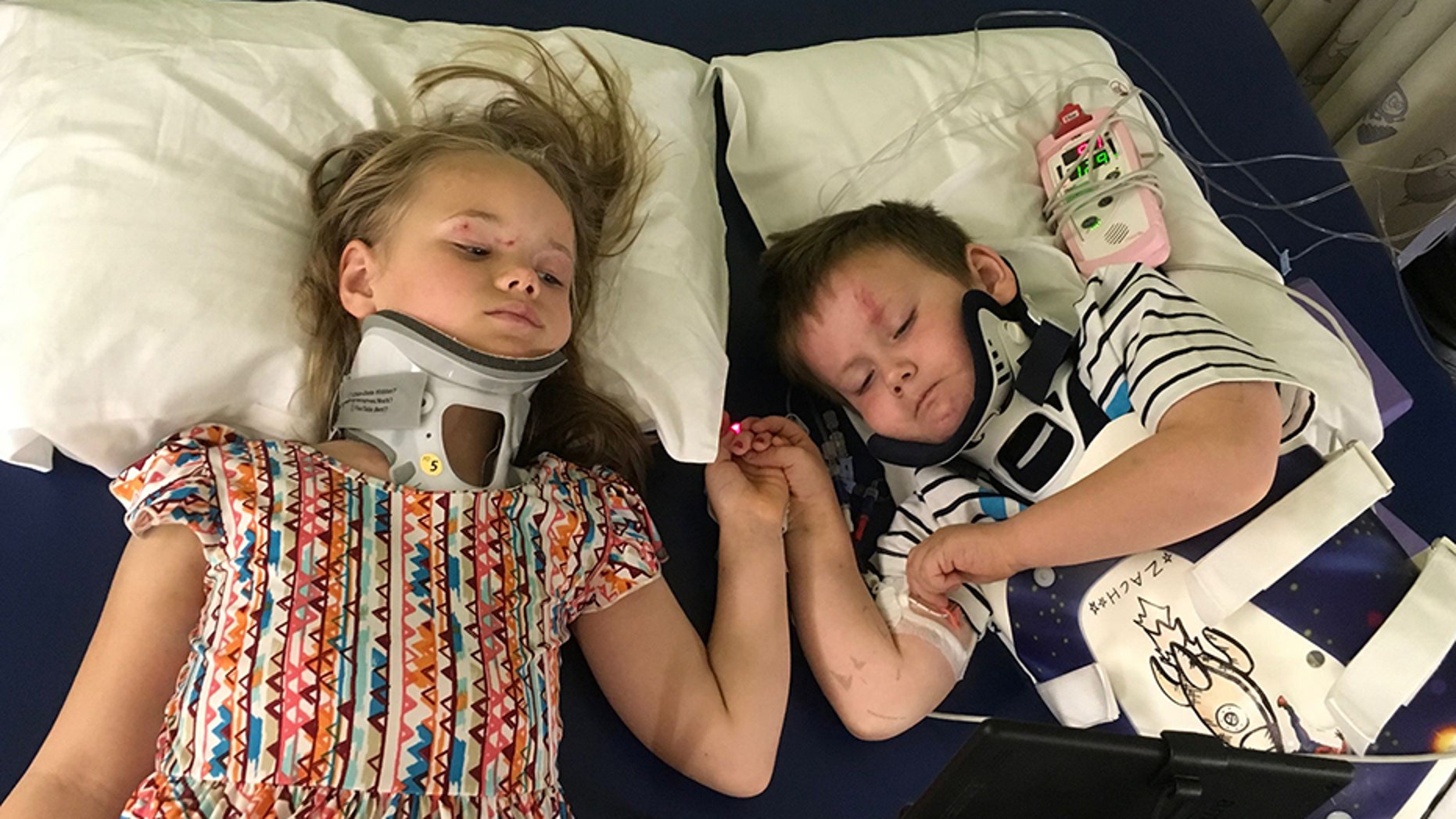 Two siblings in  San Angelo, Texas, were reunited for the first time after their parents and 2-month-old sister were killed in a head-on crash earlier this month.
Five-year-old  Zachary Clemens was reunited with his 8-year-old sister,  Angela Clemens this week, Teresa Burrell, the children's great aunt, said on Facebook.
"Yesterday, he [Zachary] was able to leave his bed and get into the wheelchair for the first time. He and Angie were able to see each other for the first time. Angie has had a lot of brain injuries, but yesterday she was able to read and sing with us. Our hearts are so full of the miracles we are experiencing," she wrote.
"This is Zachary and Angie. They are able to touch each other for the first time since the accident. Our prayers are for these little ones who have a long journey of healing ahead," she added.
Burrell did not immediately respond to Fox News request for comment on Saturday.
Zachary, Angela and their two other siblings, Wyatt, 4, and Nicholas, 2, were involved in a head-on crash on Saturday, April 7. The Clemens were heading back from a family outing when the driver of a Tahoe lost control of the vehicle, veered into oncoming traffic and hit the family's Suburban, KTXS-TV reported.
The children's parents, Jim Alan Clemens, 31, and Karisa Brianne Clemens, 29, were killed. The crash also claimed the life of their 2-month-old sister, Juliana.
Zachary, Angie and Wyatt were all taken to a local hospital in critical condition while their 2-year-old brother escaped the accident with only minor injuries. He is now with his grandmother while his three siblings are treated at Cook Children's Medical Center in Fort Worth.
"Little Zachary broke his back, but could feel his toes and that's awesome. But when they took him in for surgery his lungs, they really struggled," Burrell said, according to KTXS-TV.
Angie, who only recently awoke from a coma, suffered various brain injuries as a result of the crash. Wyatt was paralyzed on his left side and suffered strokes following the accident but is on the mend. Burrell wrote on Facebook that the 4-year-old is an "active little boy who is walking (carefully) and playing. He rarely sits still."
Two separate fundraisers have been started to help the family pay for funeral and medical expenses. One fundraiser, on Facebook, has raised more than $100,000. The other, on YouCaring, has raised nearly $40,000.
Local authorities are still investigating additional details of the crash, People magazine reported.