Toddler with rare dwarfism urges fans to 'Rise Up' for Falcons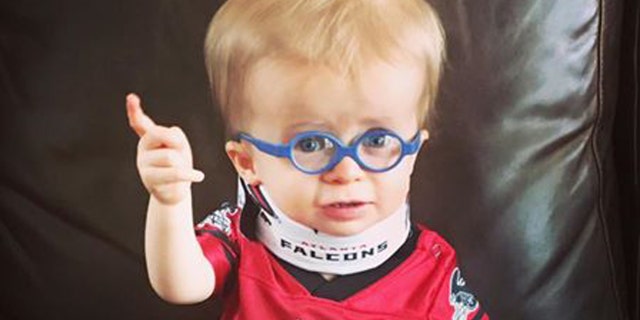 NEWYou can now listen to Fox News articles!
One of Atlanta's youngest fans wants other die-hards to "Rise Up" for the Falcons this Sunday as they take on the New England Patriots in Super Bowl LI. His message is being heard by thousands on social media after Children's Healthcare of Atlanta shared a photo of 17-month-old Wyatt Keeton in his favorite team's jersey and a Falcons-themed neck brace.
Wyatt was diagnosed with a rare form of dwarfism called Spondyloepiphyseal Dypslasia (SED), and at just 11 weeks old his parents were informed he was suffering from spinal cord stenosis, Fox 9 reported. Children's Healthcare of Atlanta said the disorder is common in children with dwarfism because their heads are disproportionate to their smaller frames.
Wyatt's parents were told that a cervical collar would help reduce pressure on his spine, and the family has taken to decorating it in various patterns and colors.
"Wyatt's spinal stenosis is almost completely resolved so he won't have to undergo surgery," Jenn Keeton, Wyatt's mother, said on CHOA.org. "He'll wear the brace for the foreseeable future until this is resolved. I buy fabric for the collars – all kinds of colors and themes. He must have at least 30 by now."
The hospital's Jan. 22 photo has received more than 15,000 likes.