11-year-old diagnosed with rare, unnamed cancer headed to Super Bowl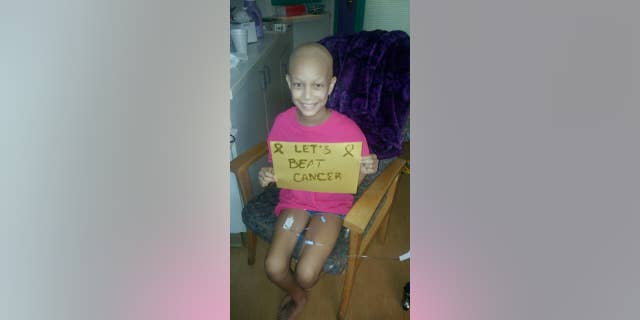 Eden Green is among the millions of fans planning to trek to Houston for Sunday's Super Bowl, but the 11-year-old's journey is all the more remarkable, as it includes a story of against-all-odds survival after she was diagnosed with a cancer so rare it has never been named.
In spring 2015, then-10-year-old Eden started feeling sore in her right leg, but her family believed dancing or growing pains was the culprit.
"It started in March, and then I woke up one morning, and it was like a throbbing pain and it just kept hurting from that day," Eden told Fox News.
But the reason for her pain was something far less ordinary than what her parents suspected.
At Texas Children's Hospital the following June, three weeks of biopsies and scans revealed she had a primitive round blue cell neural tumor— an aggressive, cancerous and metastatic mass. At one point, the tumor became so big that it broke one of Eden's shoulders, rendering the arm immobile.
"[The tumor] spread to her spine, her entire hip cavity and both femurs," Shannon Green, Eden's mother, told Fox News.
Pathologists and doctors determined Eden's cancer would require two different types of treatment due to its unique makeup.
"Eden's cancer is something so rare, we haven't seen it before and it's not present in the literature," Dr. Jennifer Foster, clinical co-director of the neuroblastoma program at Texas Children's Cancer Center, told Fox News. "The tumor is a little bit like multiple different types of cancers— it doesn't fit under one category."
Doctors immediately began 14 rounds of intensive chemotherapy and six weeks of radiation typically given to patients diagnosed with a neuroblastoma or sarcoma. The regimen lasted six to eight months and required a five-day hospital stay with each treatment. Foster said the tumor responded to treatment right away, but the aggressive medicine weakened Eden's bones as well.
"She does have some side effects," Foster said. "She had hip surgery to stabilize her hip bone, and physical therapy to regain her strength back because her therapy was so intense."
Despite Eden's hardships, Foster said the little girl has continued to smile and remained upbeat during treatment. Shannon pointed out that, as she writhed in pain, Eden continued to comfort her family, including younger sister Mya.
"I remember Mya coming up to Eden on her bedside, and Mya was crying and thinking about her sister who she looks up to and loves very much," Shannon said. "I remember her being upset, and I remember Eden grabbing her and comforting her sister, and telling her sister it was going to be OK, even though she was the one in bed sick."
Eden continues to undergo follow-up scans every six months to ensure the cancer hasn't returned, and will be monitored for the duration of her life through the clinic's long-term survivor program. Because doctors don't know how the cancer may behave, Eden will not be considered to be in remission until she is 16, but her latest scans show no evidence of disease.
"I was here at home, and mom got the phone call, and she told me and I screamed," Eden said of learning the cancer was gone.
For a hip appointment at Texas Children's in January, Foster relayed more exciting news. Through the Hyundai Hope on Wheels program, she told Eden she would be going to Super Bowl LI at Houston's NRG Stadium, where the New England Patriots and Atlanta Falcons are set to face off.
"When we told her in the patient room, she was in shock," Foster said. "After we were walking out together, she kept saying, 'I'm going to the Super Bowl, I'm going to the Super Bowl, I'm going to the Super Bowl.'"
Eden was randomly selected through the program with another patient at Texas Children's, and will take her dad, Thomas, with her to the game. Eden said she'll root for Brady and the Patriots, and has picked out navy leggings and a red tutu with a Super Bowl shirt to match. Part of her experience will include taking over Hyundai's social media for the day and sharing her favorite moments.
"I'm really thankful for Hyundai Hope on Wheels for this opportunity for them and Texas Children's," Shannon said. "If Texas Children's hadn't done what they did, my daughter wouldn't be here."