Toddler who was saved by doctor's 'Hail Mary' defies odds to celebrate 2nd birthday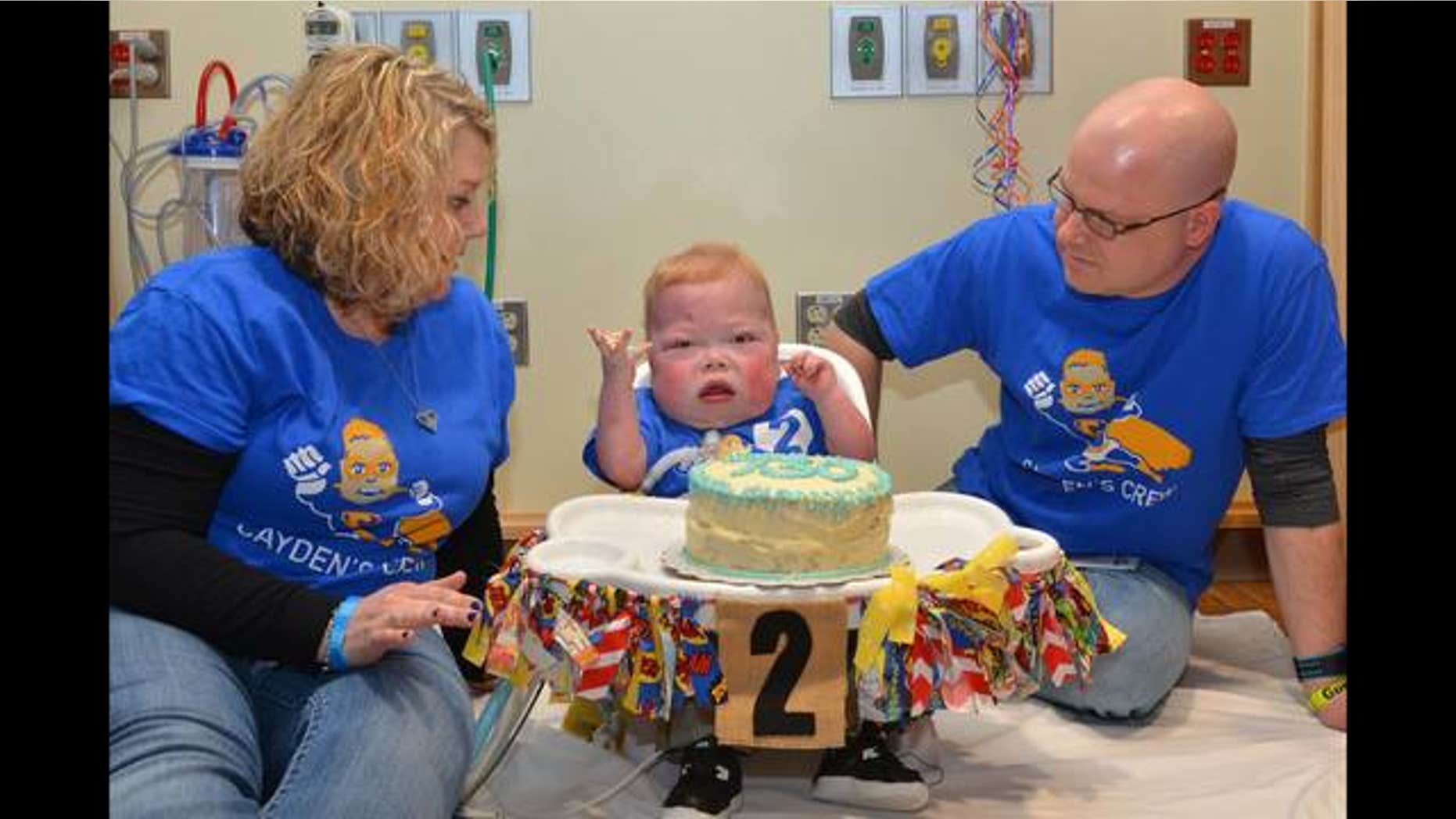 There's cake, superhero décor and personalized t-shirts. The room is filled with joy and life as loved ones gather inside young Cayden Jolliff's home—a room inside Nationwide Children's Hospital in Columbus, Ohio—to celebrate his second birthday. In the midst of the celebration, a special appearance is made: the doctor who issued a "Hail Mary" when saving Cayden's life was improbable nearly two years ago.
Cayden glows with a particular delight that warms the spirit of the nurses who work on the unit. It's not uncommon for staff to stop by his room to absorb the jubilance displayed so freely from a child who has never felt the invigorating kiss of sun on human flesh.
UNTREATED STREP INFECTION LEAVES MICHIGAN MOM OF 7 BATTLING FOR LIFE
"They know where to come when they need a smile on their face," says Cayden's mother, Gretchen Jollff.
Despite the open door policy of Cayden's room, it's rare 35-40 people stop by in a short time frame. From nurses to doctors to family, the purpose is clear: celebrate the hospital's very own superhero. Cayden's unrivaled strength is unimaginable to most. His path acknowledges the odds, and passionately refuses to accept.
RARE CONDITION CAUSES FAMILY'S 2 DAUGHTERS TO SUFFER MULTIPLE SEIZURES EVERY HOUR
"There's no rule book he follows," Jolliff said.
In November 2014, at an ultrasound appointment near the 20-week mark, Jolliff and her husband were informed that something was wrong with Cayden. He was diagnosed with having congenital diaphragmatic hernia, a birth defect of the diaphragm. CDH is a hole in the muscle between the chest and abdomen that allows the contents of the stomach to rise up into the fetal chest.
Doctors said the chance for survival was 20 percent. The Jolliff's were told they had one week to terminate the pregnancy. They couldn't. And when Cayden's liver and spleen moved up against the diaphragm, his survival rate dropped to 5 percent.
"I remember leaving there and my husband and I just sat in our car for 45 minutes letting it sink in," Jolliff said. "At that point it felt as if there was so little hope."
As the reality of the situation set it, it became clear that they could go through the last four months of pregnancy to give birth to a child that probably wasn't going to live. A scary realization, as Mr. Jolliff describes.
'I CAN'T ERASE THIS DIAGNOSIS': MOM WRITES EMOTIONAL POST ABOUT DAUGHTER'S RARE GENETIC DISORDER
Almost immediately after birth, Cayden was rushed from the Ohio State University Hospital to the neonatal intensive care unit (NICU) at Nationwide Children's Hospital. He couldn't breath on his own. Seven hours after birth he was put on extracorporeal membrane oxygenation (ECMO), which is a treatment that uses a pump to circulate blood through an artificial lung back into the bloodstream.
He came off and then went back on—a rare occurrence.
"There was a point in the first few weeks where the doctors told us there was nothing to do," Jolliff said. And when it came time to come off again, with going back for a third time impossible, the doctor said his Hail Mary. And shortly after, 28 days post-birth, a mother held her son for the first time.
"Thank goodness for my husband," Jolliff said. "That first month was a fog for me. Not being able to hold my son and give him that closeness was extremely difficult."