Toddler who beat cancer twice heads home after 8-month hospital stay
An Ohio family is celebrating the recent homecoming of their 17-month-old daughter, who has already beaten cancer twice.
Grace Rosian, who has Down syndrome and was born two months prematurely, was diagnosed with a form of leukemia at birth. Grace underwent her first rounds of chemotherapy at just two days old.
While she was given the all-clear to head home after two months, the cancer returned in the form of acute myeloid leukemia (AML) in August 2017. Because the treatment carries a high-risk of infection, Grace was hospitalized for eight months, during which she received 10 spinal tap procedures so that she could receive the chemotherapy directly into her spinal fluid.
LAWSUIT ALLEGES MICHIGAN ILLEGALL OBTAINS NEWBORNS' BLOOD
"With everything Grace has been through, she's always been a happy baby," Valerie Revell Rosian, Grace's mother, said on the Cleveland Clinic newsroom blog. "I don't think a single day went by that we weren't able to get a smile out of her."
Rosian said that since her daughter has been born, the family has only had her home for about five or six months, with the rest broken up into hospital stays and doctor visits.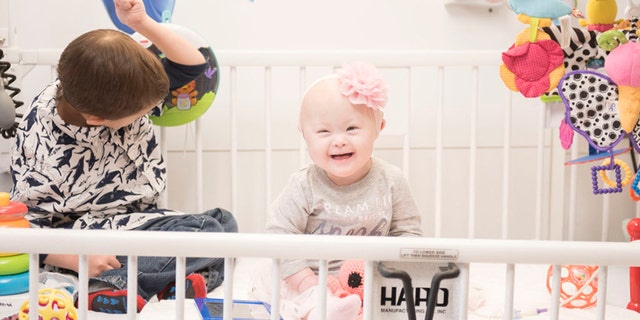 "On her pictures for her first birthday, it hurts my heart to look at them," Rosian told People magazine. "We tried so hard to make it special for her, she was so sick. She looked so sick."
But on March 21, which coincidentally marks World Down Syndrome Day, the Rosians were able to take Grace home.
"When I got the news that I could take her home, I was like 'I can breathe now,'" Rosian told People. "It felt good but strange because most of my time with her had been at the hospital. When I got to have her home, it felt good because now I can be the mom. I can be the mom 100 percent."
Rosian has continued to update supporters on the "Fight with Amazing Grace Rosian" Facebook page, where she has shared photos of the toddler reading with her older brother and playing with her new toys.