The best and worst picnic foods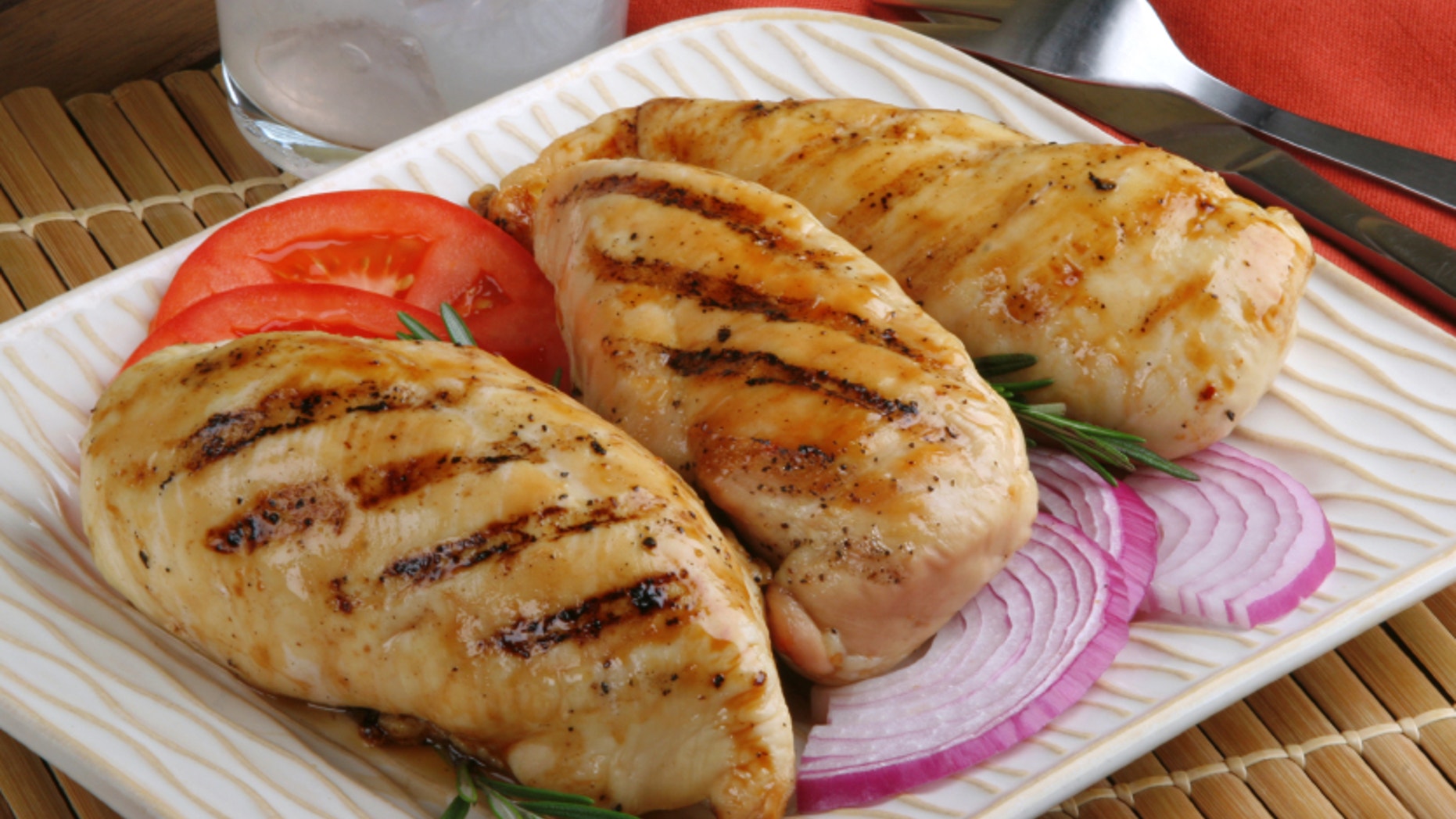 Plan a healthy barbecue
A gorgeous day, great food—who doesn't love a picnic? You, that's who, if the food is a rogue's gallery of fatty fare likely to clog your arteries or wreck your diet.
But it doesn't have to be that way. Here's a list of the best and worst foods you should pick or skip if you're attending a barbecue, as well as healthy recipes you can bring or serve at your own fete.
Dig in to these tasty treats for a perfect picnic day. They're a triple win: Simple, tasty, and healthy.
Burgers: Worst
We love burgers. But they can be calorie and saturated fat bombs—so choose carefully. A plain burger on a bun is about 270 calories and 4 grams of saturated fat (20 percent of the daily value), but make it a large one with toppings and you're up to 512 calories and 52 percent of your daily value for saturated fat (over 10 grams), or more.
If you're the cook, consider Ground Sirloin Sliders, tasty bites that deliver only 283 calories and 2 grams of saturated fat in each serving (two sliders).
Or choose from an array of other healthy burger recipes, such as a Salmon Burger With Yogurt Sauce, Chicken Burgers With Peanut Sauce, or Turkey and Oat Burgers.
Watermelon: Best
Fun to eat, and good for you too, a healthy wedge of watermelon has just 86 calories. You also get less than one gram of fat, and a decent amount of vitamin C, beta carotene, and lycopene. What's more, watermelon's a great thirst-quencher—it's 92 percent water.
This summer fruit is a classic and fine on its own. But if you want to get fancy, serve it up in a Watermelon, Feta, and Grilled Shrimp Salad or as a frosty drink, Pressed Watermelon and Basil Water.
Corn on the cob: Best
Grill your corn on the cob, or if you won't have a grill handy, cook it at home until barely done, then wrap the ears in tinfoil, and pack them in a cooler.
Even if you use a little butter, it's still pretty healthy; one buttered ear has 155 calories, 3 grams of fat, and 29 mg of sodium. You can also squeeze some lime juice on the cob and sprinkle it with some cayenne pepper and Parmesan cheese, and you'll have a healthier version of elote, a tasty Mexican street food.
Pulled pork sandwich: Worst
This stuff tastes great, but the traditional version of this dish—pulled pork in barbecue sauce—delivers 418 calories and 1658 mg of sodium per 1-cup serving. And that's without a bun. Yikes! (The Institute of Medicine recommends no more than 2300 mg of sodium daily and no more than 1500 mg if you're African American, over 50, or have high blood pressure, diabetes, or other health issues.)
If you're a pulled pork fanatic, try this BBQ Pork Sandwich recipe, which delivers 398 calories and 726 mg of sodium per 2/3 cup serving, which includes the bun. Just make sure to put it on a whole wheat hamburger bun.
Grilled fish or seafood: Best
Fish is relatively low in calories, rich in omega-3 fatty acids, and cooks in just a few minutes on the grill.
What could be easier or healthier? Choose recipes like these: Grilled Shrimp and Citrus Skewers (134 calories per skewer); Grilled Halibut and Fresh Mango Salsa (295 calories per serving); or Grilled Salmon With Minted Cucumber Sauce (322 calories per serving).
You'll only go wrong if you deep fry, serve with calorie-laden sauces, or choose types prone to high levels of mercury, such as swordfish, shark, mackerel king, or tilefish.
_________________________________________
More from Health.com:
The 50 Fattiest Foods in the States
America's Healthiest Superfoods for Women
_________________________________________
Fried chicken: Worst
It may be tasty, but those buckets of fried chicken from KFC and its many imitators are chock-full of calories, fat, and sodium.
An Original Recipe chicken breast has 360 calories, 21 grams of fat, and 1,080 mg of sodium. Want that chicken breast extra crispy? That will run you 510 calories, 33 grams of fat, and 1,010 mg of sodium. Spicy crispy? That's 420 calories, 25 grams of fat, and a whopping 1,250 mg of sodium.
KFC does offer grilled chicken, which is a much better nutritional choice at 220 calories, 7 grams of fat, and 730 mg of sodium.
Oven-fried chicken: Best
You can make your own "finger-lickin' good" chicken in the oven, with a crunchy crust just like the real thing, but not quite as much fat and sodium. Try this Oven-Fried Chicken, which has 450 calories per serving, 13.8 grams of fat, and 803 mg of sodium.
You can also get even healthier and whip up some Buttermilk Pecan Chicken, which has 307 calories per serving, 10 grams of fat, and 138 mg of sodium.
Potato salad: Worst
This one can be a diet disaster. Traditional potato salad with full fat mayo and eggs delivers 358 calories, 20 grams of fat, and 170 mg of cholesterol (300 mg per day is the max limit for healthy people; 200 for those with high cholesterol) per 1-cup serving.
But there's a better way. This Two-Potato Salad With Mustard-Chive Dressing has 154 calories, 5 grams of fat, and 3 mg of cholesterol per 3/4 cup serving.
Also try using purple potatoes, which are richer in antioxidants. "That's also a way to make it a little bit healthier, and fun too," said Carolyn Brown, a registered dietitian and nutritionist at FoodTrainers in New York City. "It looks cool."
Hot dogs: Worst
This one is tricky. What's better at a cookout than a couple of dogs tossed on the grill? Nothing—if you choose the right hot dog.
Try to pick one that has less than 150 calories and fewer than 14 grams of fat (with no more than 6 grams saturated). Sodium shouldn't go over 450 mg and you may want to skip those with a filler, mechanically separated meat, in the ingredient list.
Check out our list of the best and worst hot dogs for more details on the best beef, turkey, and veggie dogs.
Chicken, fruit, and veggie skewers: Best
Anything served on a skewer is fun, easy to eat, and often the perfect picnic food. Try these Yogurt-and-Spice Grilled Chicken Skewers, which deliver just 210 calories per two skewers.
Or consider these Mediterranean Skewers With Bloody Mary Vinaigrette, which offer a tasty combo of olives, tomatoes, artichokes, and mozzarella (only 157 calories per skewer), or these Mozzarella and Nectarine Skewers With Pesto, which deliver 214 calories per two skewers.
Fruit salad: Best
It's hard to go wrong with fruit salad. It's often relatively low in calories and rich in antioxidants and fiber. Try Poppy Seed Fruit Salad for 106 calories per 1-cup serving or Lavender-Scented Summer Fruit Salad at 119 calories per serving.
But just keep in mind that fruit is high in natural sugar. If you have diabetes or prediabetes you may need to watch portion sizes. And any fruit salad with high-calorie toppings (think mayo-soaked Waldorf salad) can be problematic; even this Lightened Waldorf Salad delivers 186 calories in a 1-cup serving.
Coleslaw: Best
Traditional coleslaw contains cabbage, carrots, and cider vinegar (not mayonnaise!) and is relatively healthy if sometimes dull.
Coleslaw delivers about 47 calories and 2 grams of fat per 1-cup serving. (Add in mayo and it's closer to 80 calories or more per serving). But the bland color and taste sometimes makes 'slaw the most likely candidate for the "leftovers" category.
To amp up the popularity, try this Spicy Sweet Slaw or Confetti Slaw With Poppy Seed Dressing, which has just 40 calories and 2 grams of fat per serving (2/3 cup). The spicy-sweet flavor will guarantee that guests eat it up!
Pasta salad: Best
With pasta salad, the devil is in the details. If you're scooping mayo-soaked macaroni onto your plate, expect to consume about 390 calories and 19 grams of fat per serving. And those calories are pretty darn empty. But pasta salad can be so much more, so that's why we think it's the best.
Start with whole-wheat pasta and add low-cal ingredients, like veggies, and boost the protein with low-fat cheese or lean meat.
Consider Penne With Spinach and Feta (282 calories per 1 1/2-cup serving); Tangy Dijon Pasta (204 calories per 1-cup serving); or Pappardelle With Lemon Gremolata and Asparagus (179 calories per 1-cup serving).