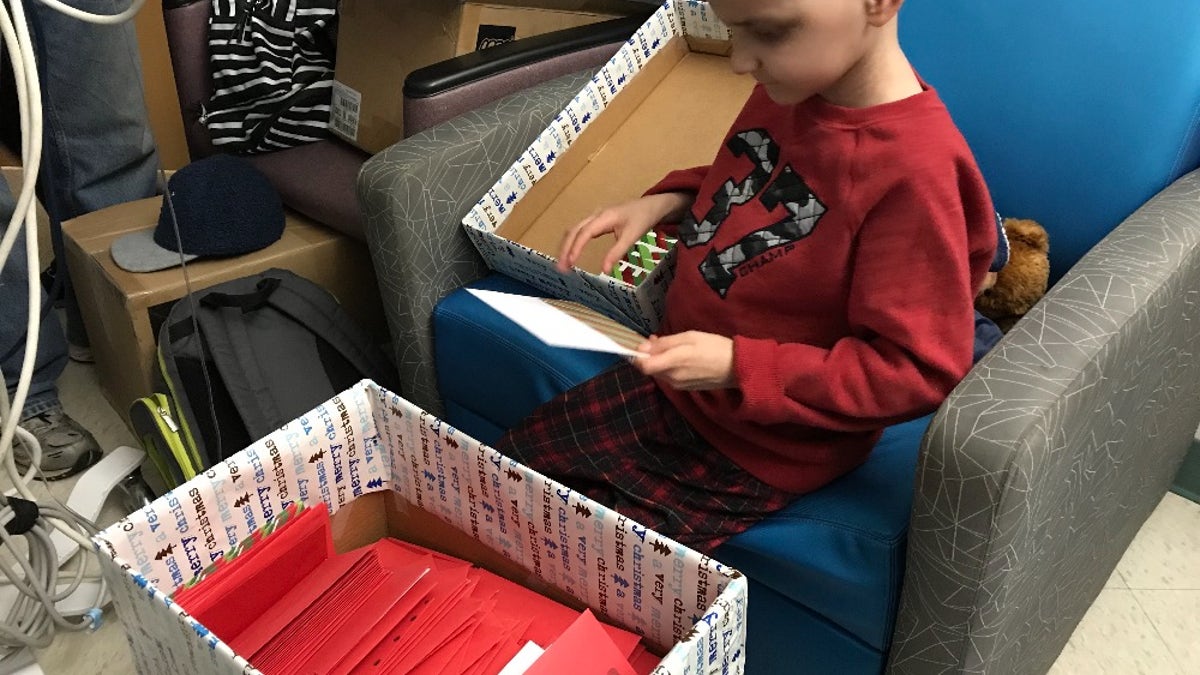 Thousands of strangers have responded to a terminally ill boy's wish for Christmas cards as he celebrates his favorite holiday a month early for one final time. Jacob Thompson, a 9-year-old who has been battling stage 4 high-risk neuroblastoma since age 5, saw 14,000 cards arrive at his hospital room in Maine on Monday, with another shipment scheduled for later that afternoon, WMTW.com reported.
Many of the cards featured penguins, which are Thompson's favorite animal, while others sent penguin-themed gifts like socks and stuffed animals. According to his mother's Facebook page, the family gathered on Nov. 4 to celebrate an early Thanksgiving with him, and helped to open the hundreds of gifts and cards that had already arrived at Barbara Bush Children's Hospital.
"We want to send out a huge thank you for all the love and support," Michelle Thompson Simard, the boy's mother, posted Sunday on the family's GoFundMe page. "We will be paying this forward and giving back to the children's cancer community. Please continue to keep checking in for detail."
WOMAN GIVES BIRTH IN CAR AFTER HUSBAND CRASHES EN ROUTE TO HOSPITAL
Simard shared photos of relatives gathered to enjoy a Thanksgiving feast with Thompson alongside the post.
"We were lucky enough today to celebrate a family Thanksgiving, naturally because it comes before Christmas," she wrote. "We also have continued to open Christmas cards and gifts. Thank you everyone for your well wishes, generosity and continued support."
Plans are also in place to transform Thompson's room into a winter wonderland, complete with Christmas trees and a visit from Santa.
Thompson's wish started making headlines last week, when Simard shared that he had been given about one month to live after doctors discovered his cancer spread to his hip and head. While grappling with the news, Simard, and Thompson's father, Roger Guay, decided to make their son's wish to celebrate his favorite season come true.
"Jacob loves the holiday season," Simard told WLKY. "And we want him to know that Christmas wishes come true and that there are good people who care all around the world."
To send a card to Jacob, address the envelope to:
Jacob Thompson
C/O Maine Medical Center
22 Bramhall St
Portland, ME 04102