Shelter buys paralyzed dog wheelchair after family is evicted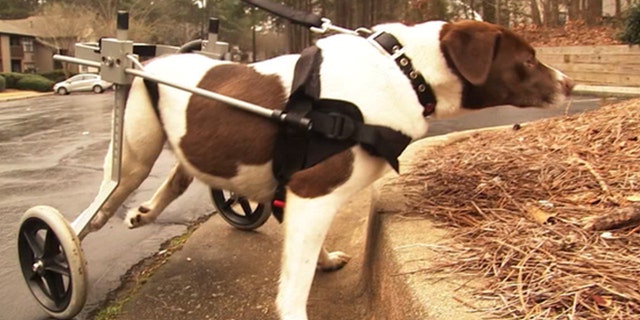 NEWYou can now listen to Fox News articles!
When a paralyzed dog was taken to a shelter by animal control after his family had been evicted, staff and volunteers decided to change his life while his family got back on their feet.
Bookie, a 3-year-old beagle-lab mix, had been hit by a car, losing use of his legs, and was using his front legs to scoot around as his family did not have the money to pay. On December 15, the Charles family returned home to find their belongings on the front lawn, a lock on the door and a number to contact to find out where Bookie was, Fox 5 Atlanta reported.
He had landed at DeKalb Animal Services, a shelter in Georgia run by Lifeline Animal Project. When the shelter contacted the family, Charlesetta Charles let staff know that they loved their pet and wanted him back, but needed time to figure out their living situation, the news station reported.
"We kept him in the front office because he's a super friendly dog," Karen Hirsch, the shelter's public relations director, told Fox 5 Atlanta. "And our volunteers and staff fell in love with him."
They also noticed he developed sores on his back legs from dragging them around, so they decided to chip in and buy the dog a wheelchair. They found one on eBay for $200 that would need to be assembled, but decided it was worth it for Bookie and his family, who were already struggling without a home or car.
Ten days later the family reclaimed Bookie, and three weeks later returned so he could be fitted with his wheelchair.
"And they gave him a big bucket full of dog treats and food. It was just a wonderful thing. A blessing," Charles told Fox 5 Atlanta. "I was so happy. Because my baby didn't have to slide around anymore."