Second monkeypox case recorded in England: report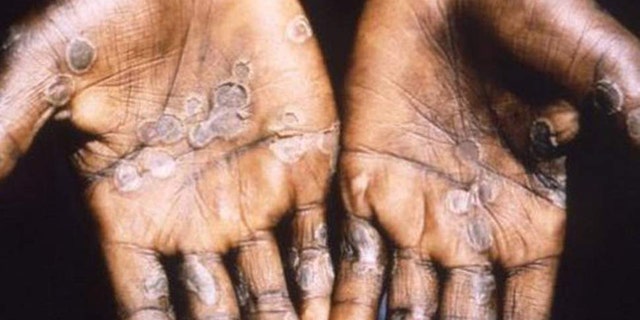 A second case of monkeypox was reportedly discovered in England, just days after the first-ever case in the country was confirmed in Cornwall.
Both patients are believed to have recently visited Nigeria, but the two cases appear unrelated, the Independent reported.
Monkeypox is a rare disease that does not spread easily between people. It's considered mild, and typically occurs in remote parts of central and west Africa, according to the World Health Organization. The virus lives in animals but can be transmitted to humans. In 2017 Nigeria experienced its first outbreak of the viral illness since 1978, according to WHO.
"It is likely that monkeypox continues to circulate in Nigeria and could therefore affect travelers who are returning from this part of the world, however, it is very unusual to see two cases in such a relatively short space of time," Dr. Nick Phin, deputy director of Public Health England's National Infection Service, said, according the Independent.
NEW YORK GIRL HAS ANKLE REATTACHED BACKWARD TO CREATE NEW KNEE AFTER BONE CANCER DIAGNOSIS
The virus is less deadly than smallpox, with symptoms appearing about two weeks after exposure. Patients may experience fever, headache, loss of appetite, muscle aches and swollen lymph nodes, according to Live Science.
Patients then may develop a rash, typically on the face and trunk, which progresses to fluid-filled blisters before scabbing and falling off. It takes about two to four weeks to recover from an infection.
MISSOURI BOY SURVIVES BEING IMPALED IN THE FACE BY A METAL MEAT SKEWER
Public Health England is currently searching for anyone who may have come in contact with either of the patients, who have not been identified by name.
The first patient, who is from Nigeria but was staying at a naval base in Cornwall, is being treated at Royal Free Hospital in London, while the second case was recorded in Blackpool Victoria Hospital, Lancashire, although the patient has since been transferred to Royal Liverpool University Hospital, the Independent reported.
"We are treating a patient who has tested positive for monkeypox," Dr. Mike Beadsworth, clinical director of the Tropical and Infectious Diseases Unit at Royal Liverpool University said, according to the news outlet.
"The patient is being cared for on our specialist infectious and tropical diseases unit, by highly trained staff who are experienced in dealing with a variety of infectious diseases."