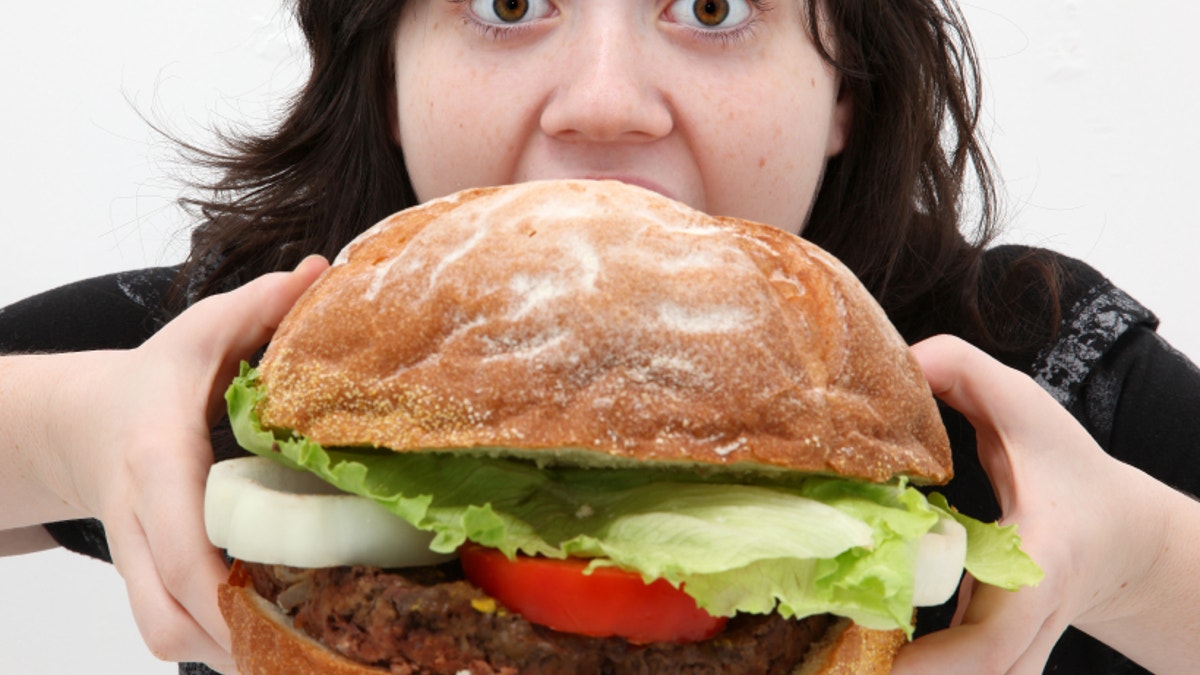 Americans talk skinny but eat fat.
No matter that first lady Michelle Obama has been on a crusade for a year and a half to slim down the country. Never mind that some restaurants have started listing calories on their menus. Forget even that we keep saying we want to eat healthy. When Americans eat out, we order burgers and fries anyway.
"If I wanted something healthy, I would not even stop in at McDonald's," says Jonathan Ryfiak, 24, a New York trapeze instructor who watches his diet at home but orders comfort foods like chicken nuggets and fries when he hits a fast-food joint.
In a country where more than two-thirds of the population is overweight or obese, food choices are often made on impulse, not intellect. So, while 47 percent of Americans say they'd like restaurants to offer healthier items like salads and baked potatoes, only 23 percent tend to order those foods, according to a survey last year by food research firm Technomic.
That explains the popularity of KFC's Double Down, a sandwich of bacon and cheese slapped between two slabs of fried chicken. It's the reason IHOP offers a Simple & Fit menu with yogurt and fruit bowls, but its top seller remains a 1,180-calorie breakfast sampler of eggs, bacon, sausage, ham, hash browns and pancakes. It's also why only 11 percent of parents ordered apple slices as an alternative to fries in McDonald's Happy Meals.
The mixed message hasn't stopped many restaurants from offering healthier fare. After all, the government has stepped up its oversight — and influence — over the industry that it blames for America's expanding waistline. National rules about putting calorie information on menus are expected to take effect next year.
And Mrs. Obama touts restaurants and companies that slash calories in foods.
But revamping a menu can be difficult and expensive, requiring months or even years. For example, it took Dunkin' Donuts four years to figure out how to make its doughnuts without trans fat — which doctors say is one of the unhealthiest types of fat — without altering the taste.
And efforts to curb unhealthy eating aren't always fruitful. In 2009, a year after New York made chains start listing calories on menus, only 15 percent of diners ordered lower-calorie foods, according to a study in the British Medical Journal.
As a result, many chains have scaled back their efforts to roll out healthy foods. The number of health-related claims made on menus, like reduced fat or reduced carbs, fell 5 percent from 2008 to 2010, according to Technomic's study of more than 1,200 restaurant chains.
Most restaurants won't share specifics about how their salads and veggie omelets compete when they're up against burgers and crepes. But the healthy stuff appears to be only a small proportion of revenue at most chains.
The IHOP pancake house, owned by DineEquity Inc., says that Simple & Fit sales have roughly doubled in the year since the menu was introduced. But it still makes up only a single-digit percentage of revenue.
The Cheesecake Factory, which introduced a "Skinnylicious" menu in August featuring entrees with 590 calories or less, says those foods have also performed well. But sales of its decadent cheesecakes are up too.
"We recognize that 'cheesecake' is in our name," said Alethea Rowe, senior director of restaurant marketing.
There's a host of reasons for the disparity between word and deed. Sometimes people who eat healthy at home want to treat themselves when they go out. Others doubt that the so-called healthier items on fast-food menus are really healthy. Even peer pressure can play a role.
Like so many American dieters, fast-food restaurants have tried and failed to go healthy. The Wendy's Co. burger chain led the way in the mid-1980s with a short-lived effort to sell tomato halves filled with cottage cheese and pineapple chunks on lettuce leaves.
"Consumers weren't ready for it," said Denny Lynch, a spokesman for Wendy's, where burgers and chicken are the biggest sellers. "Or at least they certainly didn't buy it."
In 2003, during the low-carb Atkins diet craze, Domino's Pizza Inc. couldn't get people to bite on a low-carb pizza it tested in Indianapolis. "While many people at the time made their voice heard that they wanted it, few people actually ordered it," said Chris Brandon, Domino's spokesman.
McDonald's, the world's largest burger chain, says the fruit smoothies and oatmeal with brown sugar and raisins it rolled out last year are selling well, although it declined to disclose their revenue. "We would not have them on the menu if we were not selling them at a rate that we could sustain them at," said Molly Starmann, director of McDonald's family business category.