Police grant vet's wish to use night-vision goggles before going blind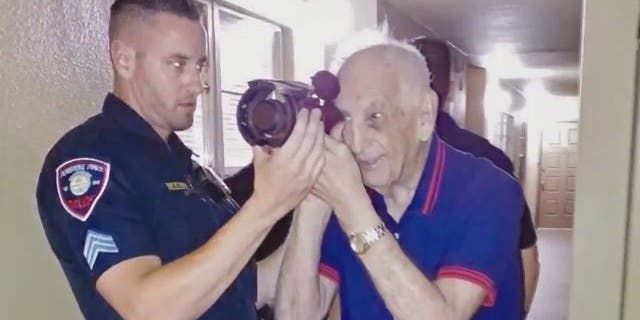 An 88-year-old Florida veteran recently called his local police department with an unusual request.
Stanley Gold, who served in the Navy, wanted to know if he could use the Pembroke Pines Police Department's night-vision goggles before he completely loses his sight, Fox 13 reported.
Gold, who is already 75 percent blind, saw his wish come true on July 11, when members of the police department showed up at his front door with a pair of goggles for him to try.
MARINE VETERAN MAKES SECOND TREK ACROSS US TO RAISE AWARENESS FOR PTSD
In a video posted to the department's Twitter, one officer asks Gold if he's ready to go to work.
"I already spent 37 years at the post office," the Korean War vet responds.
The video also shows Gold checking out other equipment with the officers, and them thanking him for the Klondike bars.