Photo of baby surrounded by heart of IVF syringes goes viral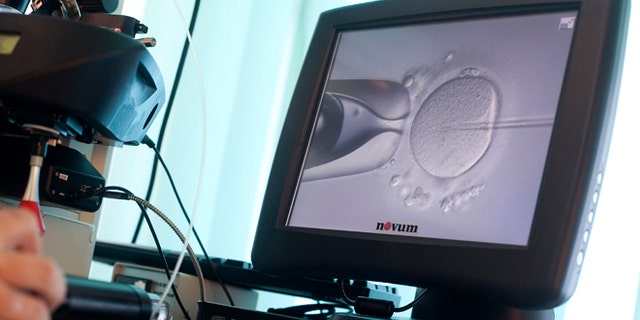 A photo shared on Facebook of a baby girl placed in the middle of a heart made out of syringes used by her mother during in vitro fertilization (IVF) has gone viral, as a caption said it shows the "true definition of love."
(function(d, s, id) { var js, fjs = d.getElementsByTagName(s)[0]; if (d.getElementById(id)) return; js = d.createElement(s); js.id = id; js.src = "//connect.facebook.net/en_US/sdk.js#xfbml=1&version=v2.3"; fjs.parentNode.insertBefore(js, fjs);}(document, 'script', 'facebook-jssdk'));
"Thank you to Sher Fertility St. Louis and Dr. Dayal patient Angela, who shows the true definition of love that went into making this gorgeous new baby girl," the caption under the photo shared by the Sher Institutes, a national network of eight fertility clinics, read. It has since been shared more than 4,000 times on Facebook, and has garnered more than 10,000 likes.
"We felt like it was a provocative, emotional photo that captures the joy and pain of IVF," Lisa Stark, director of communications at Sher Fertility Institute told USA Today. "We are overwhelemed by the response pouring in from women who can relate to the photo."
Stark told USA Today that the photo is meant to "encourage a culture of openness and elevating the dialogue around infertility."
Former and current patients of Sher Institutes have responded to the post by sharing photos of the children they were able to conceive with the help of IVF.
According to the Centers for Disease Control and Prevention (CDC), approximately 1.5 percent of all infants born in 2013 in the U.S. were conceived using assisted reproductive technology, which includes all fertility treatments in which both the eggs and sperm are handled.