Pennsylvania school disctrict sued over lead levels in water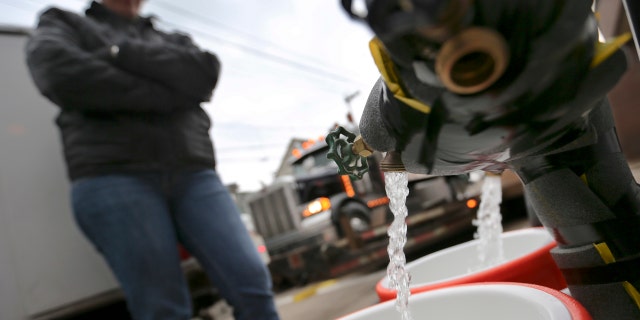 PITTSBURGH – A western Pennsylvania school district where high levels of lead in an elementary school's water went unresolved for months faces a federal lawsuit.
The school, Summit Elementary, was closed for two days in January after Butler School District Superintendent Dale Lumley said he learned the problem hadn't been rectified since it was detected in August.
The school has since been closed indefinitely for unrelated problems with E. coli in the wells from which the school's water is drawn, and its students began classes Monday in another previously shuttered building.
Lumley resigned Sunday, the district announced, and has yet to comment on his decision. His attorney, and one for the district, didn't immediately return calls for comment Wednesday. Those attorneys declined comment Tuesday when Pittsburgh media outlets contacted them after the lawsuit was filed in U.S. District Court.
Attorneys for Jennifer Tait and her daughter, Jillian, who attended Summit Elementary, are hoping a federal judge in Pittsburgh will grant class-action status in their case, which would let other students exposed to lead in the water join the lawsuit.
Brendan Lupetin, one of the attorneys for the Taits, told The Associated Press on Wednesday that the district's response to the lead issue has been insufficient. The district has offered to pay each student to be tested once for lead in their bloodstreams.
According to the U.S. Centers for Disease Control and Prevention, lead levels of 5 micrograms in a deciliter, or one-tenth of a liter of blood, is considered elevated and unsafe for children.
Jillian Tate's blood showed 3 micrograms of lead, Lupetin said, adding, "In the medical literature, any lead levels in a child's blood is not good."
The lawsuit seeks unspecified monetary damages and wants a judge to order the district to pay for future periodic lead testing for Summit students. The district should also be forced to create a contingency fund to pay for future medical expenses, should any students eventually develop health problems linked to lead in the school's water, Lupetin said.
"Lead poisoning in kids is real scary stuff," Lupetin said. "It usually always causes some kind of compromise of the central nervous system" and can lead to behavioral and learning disabilities.
The lawsuit also seeks punitive damages, which Lupetin said can be imposed if a jury finds "reckless conduct" by the district or a "state-created" danger.
Lumley has said he was aware of the August tests, but was advised by a maintenance worker put in charge of monitoring the water that the lead problem was resolved by September. It turns out it wasn't, though it's not clear when Lumley learned that before it was revealed to angry parents at a school board meeting Jan. 23.