Pennsylvania girl with congenital condition gets 3-D printed fingers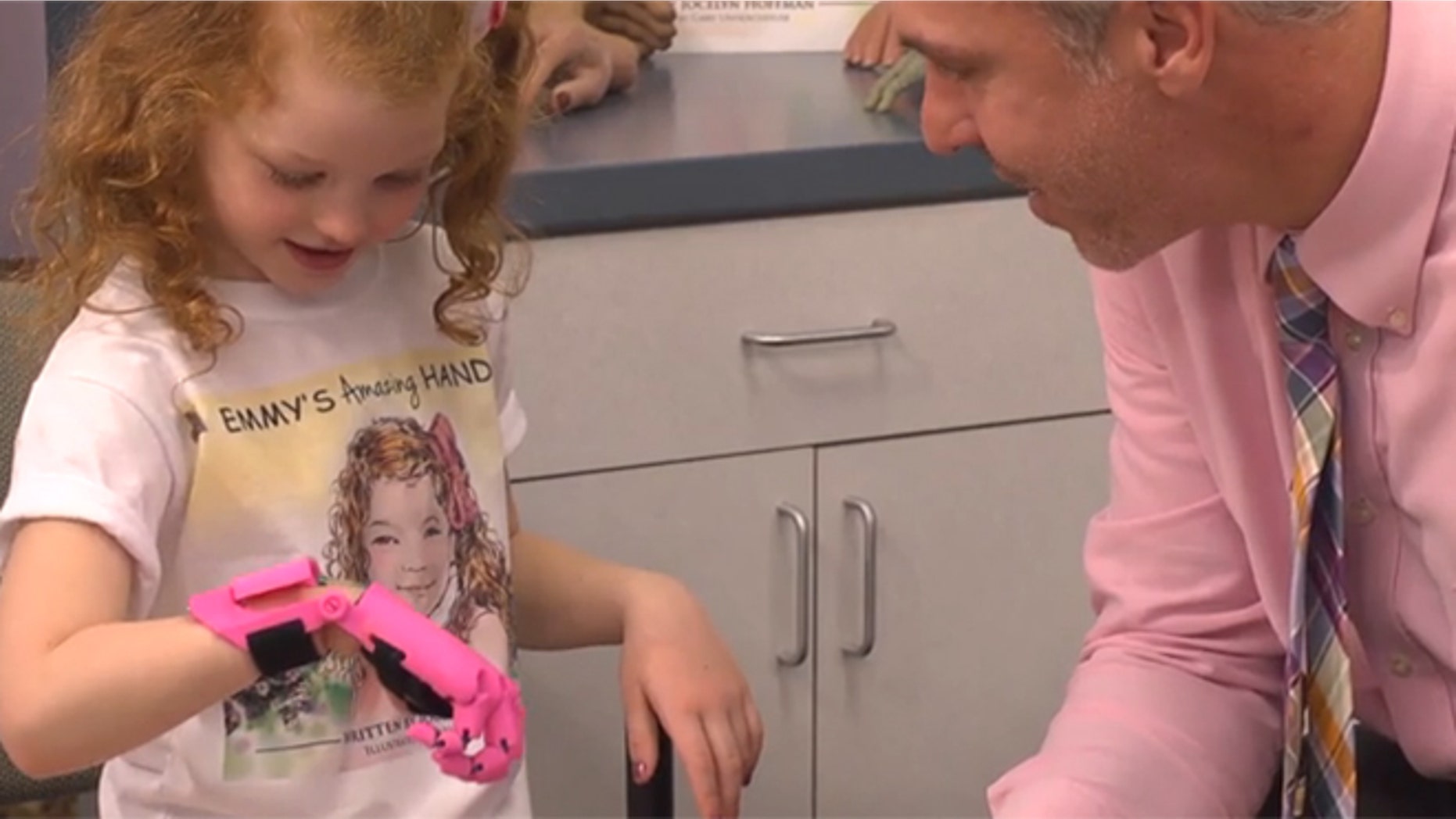 A Pennsylvania girl who was born without any fingers on one hand is finally able to experience what it'a like to have two functioning hands after being fitted with a 3-D printed prosthesis. Emmy Hoffman, 5, was born with Symbrachydactyly, a congenital condition that can cause limb abnormalities, and received her new prosthetic Friday. The fingers attach to a shell that fits over her hand and wrist.
"The hand is very simple," Eric Shoemaker, Emmy's prosthetist at Ability Prosthetics, said in a news release. "When Emmy flexes her wrist, the cables tighten and flex the fingers so the hand closes, and she will be able to grasp objects."
Advancements in 3-D printing technologies have enabled companies like Exton, Penn.-based Ability Prosthetics to help children like Emmy excel. The company fitted her with the first prosthesis and will continue to supply new fingers as she grows. Without 3-D printing, each new set of fingers would cost $10,000 to $20,000, but the Hoffmans will only be responsible for an annual cost of a few hundred dollars.
While Emmy didn't let her missing fingers hold her back from keeping up with her brothers and friends, there were some activities she missed out on— like riding a bike. The prosthetic will allow her to hold a proper grip so she can enjoy those activities. To help explain Emmy's condition to her classmates and peers, her mother, Jocelyn Hoffman, published a book titled "Emmy's Amazing Hand," which illustrates Emmy doing the same things that all kids her age do.
"The main point of the book is that these kids can do everything," Jocelyn said in the news release. "As a parent, that's hard to picture when they are so tiny."