Oregon woman has 14 worms pulled from eye after rare infection
NEWYou can now listen to Fox News articles!
An Oregon woman with a rare eye infection that resulted in 14 tiny worms being removed may be the first human to have contracted a parasitic infection spread by flies, a scientific report released Monday said.
Abby Beckley, 26, had the worms removed from her left eye in August 2016, scientists said in a report published in the American Journal of Tropical Medicine and Hygiene.
Beckley was diagnosed with Thelazia gulosa – a type of eye worm usually seen in cattle in the northern U.S. and southern Canada, but never before in humans. Scientists said the disease is spread by "face flies" that feed on the tears that lubricate the eyeball.
Beckley had been horseback riding and fishing in Gold Beach, Ore., a coastal, cattle-farming area. After a week of battling an irritated eye, she pulled out a worm.
"So I pulled my eye kind of down like this and I looked in that bottom little crevice and I was like something looks wrong, maybe I have a piece of fuzz stuck there," Beckley told Fox 12. "So I went like this, in like a picking motion, and I felt something in between my fingers and I pulled it out and I looked at my finger and it was a moving worm."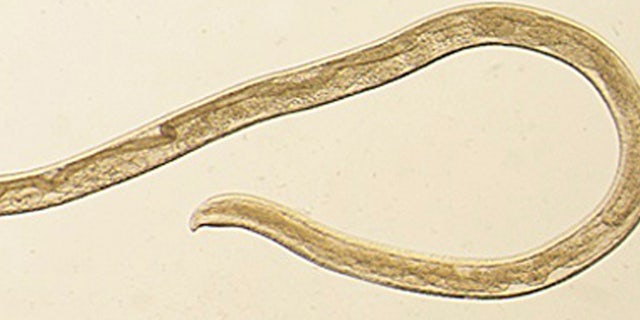 Dr. Erin Bonura, an assistant professor of medicine at the Oregon Health & Science University, told Fox 12 that she asked her to keep pulling out the worms because if doctors prescribed medication, the worms would die in the eye and wouldn't be removed.
The worms were translucent and no longer than a half-inch. Beckley had no additional worms in her eye and had no additional symptoms after the worms were removed.
"When I was going through it, it was like, there were parts of it that were so strangely comical," she told the station. "But then there were parts of it that just felt like I was living in a nightmare."
Eye worms are seen in several kinds of animals, including cats and dogs. They can be spread by different kinds of flies.
Richard Bradbury of the Centers for Disease Control and Prevention, the lead author of the study, said two other types of Thelazia eye worm infections have been seen in people before, but none like what Beckley experienced.
The Associated Press contributed to this report.