Montana mom gives birth to 'miracle' baby en route to Utah hospital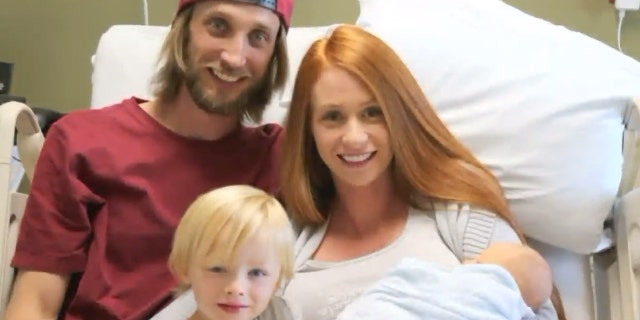 A mother of two who was told her unborn baby had just a 5 percent chance of survival in the second trimester and ended up delivering him in the back of an ambulance says he is thriving and didn't need any medical intervention.

Larissa McCollum, who welcomed son Abel on June 18, was crossing the Idaho and Utah border while en route to Montana when her water broke.
McCollum and her partner, Derek Olson, had decided to leave their native Montana so she could deliver their son at the University of Utah Hospital so that he could receive care in their NICU.
McCollum said she was told her son was facing long odds and would likely need specialized care for an array of complications. But as they embarked on their eight-hour drive, McCollum went into labor.
Olson dialed 911 and paramedics arrived to help transport the couple to the nearest hospital.
WASHINGTON HOSPITAL IS 'LIKE GOING INTO HELL'
"Once again, this baby had other plans," McCollum posted in a birth announcement on Facebook. "Two hours north of Salt Lake City, I went into labor. An hour later, he was born on the interstate and I was rushed to a small, rural hospital, Bear River Valley Hospital."
McCollum said her son was breathing on his own and appeared healthy.
"Much to everyone's surprise, he didn't need any help," she posted. "Our doctors call him a miracle."
McCollum told Fox 13 Now that she gave birth in the back of the ambulance on an exit ramp, just 16 minutes after her water broke.
"Everybody was kind of on high alert getting ready for this unexpected delivery," Dr. Todd Miller, who was waiting for their arrival at Bear River Valley Hospital. "We were fortunate to be here to help for a little bit and to see a happy ending."