Mom diagnosed with incurable breast cancer claims lump was dismissed as blocked milk duct: report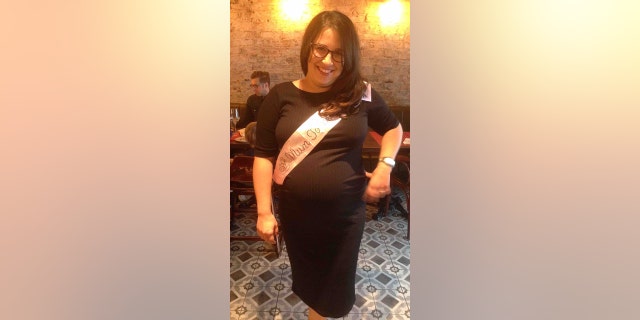 A 32-year-old mother of two who was reportedly diagnosed with incurable breast cancer just two months after giving birth is preparing to file a complaint against her medical providers after she was allegedly told the lump she found in her breast while pregnant was a blocked milk duct.
Anna Alessandro, of Stockton-on-Tees, England, told TeessideLive that she first felt the lump last summer, but that a nurse said it would "go away when I had the baby."
"I had the baby in September, then in November when I was in the shower – it had gone out of my mind but I felt the lump again, and I thought 'Oh God, it's still there,'" Alessandro, who also has a 4-year-old, said.
WOMAN CLAIMS NAIL-BITING HABIT LED TO CANCER DIAGNOSIS
She went back to the doctor, who referred her to a specialist. They then reportedly discovered that the cancerous lump had spread to the lymph nodes under her arm, two vertebrae and her sternum, according to Metro News. She was then told in November that it had spread to her bones and was incurable.
Alessandro, who plans to wed fiancé Ashley Kearney next year, said she realizes she won't be alive to urge her daughters to diligently check for signs of cancer, but wants others to be more vigilant beginning from a younger age.
"The girls will know what happened to me but what can explain cancer to a 4-year-old?" she told Metro News. "I have said to Ashley I am probably not going to be here at the age when the girls will have to check their breasts but make sure they check them. I never checked my breasts, it isn't something that is brought up for younger women. I want women to check their breasts more and if there is a probably go to their [doctor] and don't take no for an answer."
MOM DIAGNOSED WITH COLON CANCER URGES OTHERS TO GET SCREENED EARLY
Alessandro, who had to stop working as a hairdresser after her diagnosis, said she is not sure how much time she has left. Her friends started a GoFundMe page to help pay for her medical bills. Part of her treatment reportedly includes medically induced menopause to reduce her estrogen levels and hormone therapy in the hopes of increasing her lifespan.
"I am never going to be told I'm cancer-free, but at the moment I have a good quality of life," she told the news outlet.