Homemade wheelchair offers paralyzed toddler sense of freedom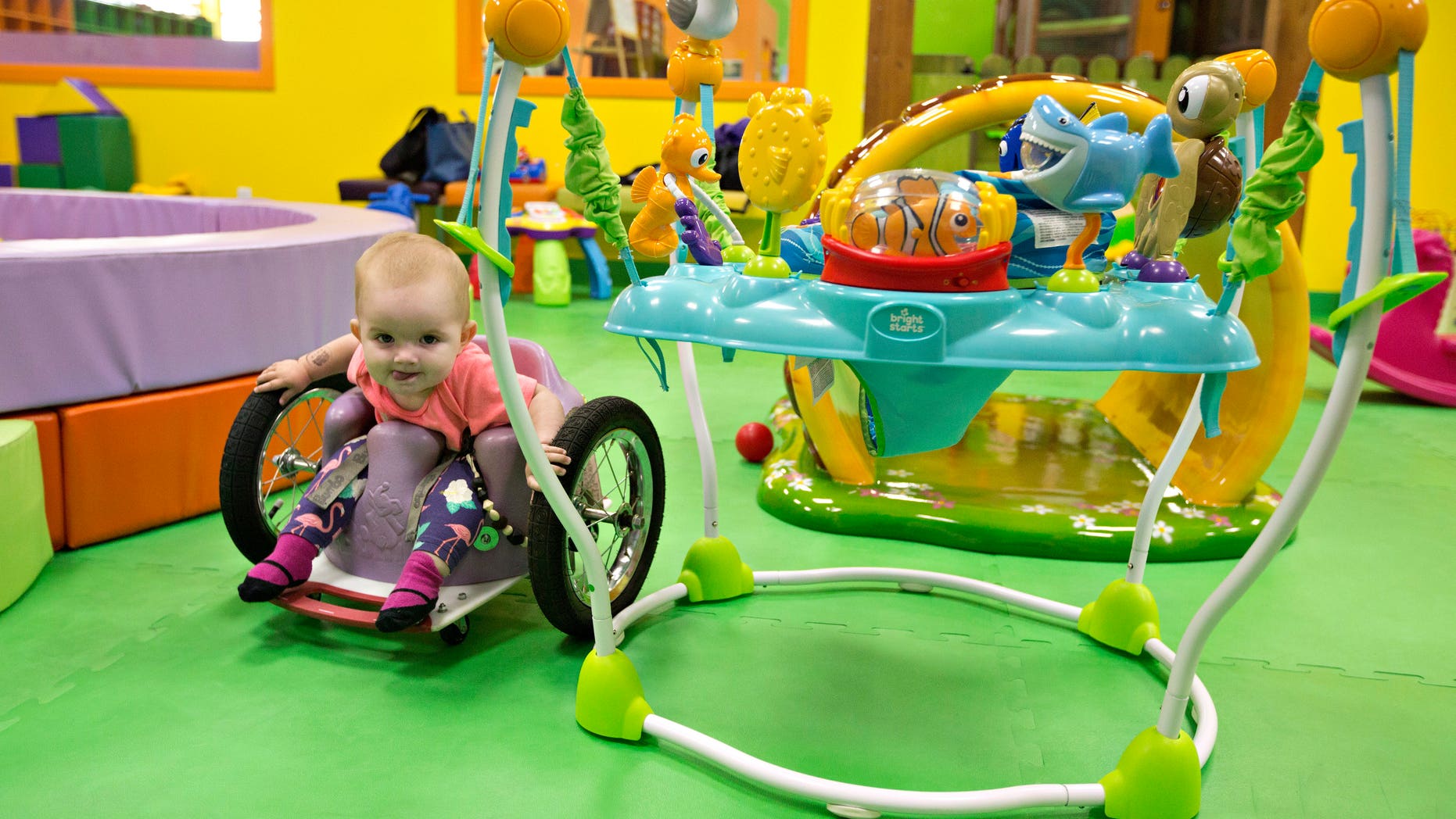 A 13-month-old toddler paralyzed by a tumor on her spine has been outfitted with a homemade wheelchair so she can keep up with her friends during playtime. Evelyn Moore, of Edmonton Alberta, Canada, was diagnosed with stage 4 neuroblastoma when she was 4 months old, The Star reported.
Although Evelyn is in remission after undergoing eight rounds of chemotherapy, the tumor left her permanently paralyzed below the arms. Doctors told her parents she would likely "army crawl" until age 2, at which point she could be outfitted with her first wheelchair.
"I guess that wasn't a good enough answer for me," Kim Moore, Evelyn's mother, told The Star.
Kim turned to Pinterest and found a do-it-yourself baby wheelchair and asked her husband, Brad, to look into it for then-7-month-old Evelyn. He attached a Bumbo chair to a kitchen cutting board, and fastened casters on the bottom with small wheels from a bicycle on each side, The Star reported.
She struggled at first, but Evelyn learned to maneuver in the wheelchair the same way other children learn to master walking and crawling.
"She went backwards first and then she went forwards, and then she figured out how to turn," Moore told the news outlet. "And now we have a speed bump in the middle of our living room because she just goes that fast."
Dr. Bev Wilson, Evelyn's pediatric oncologist, told The Star she was blown away by how well Evelyn responded to the wheelchair.
"She looked like any adult or older child would in a wheelchair," she said. "She was turning around in circles, backing up."
Even though the Moores realize the next chair may cost thousands of dollars and include more technical assembly, they're happy to provide their daughter with a sense of freedom at such a young age.
"Normally, she would be propped in a chair or a seat or a stroller somewhere," Wilson told The Star. "This has allowed her to explore her environment just like a crawling child would."