HIV mystery in Venezuelan tribe baffles medical community, with nearly 10% infected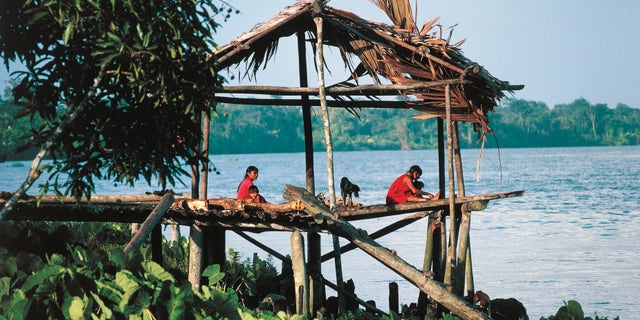 NEWYou can now listen to Fox News articles!
Caracas – The placid Orinoco River delta in eastern Venezuela is a pristine site rich with biodiversity, long favored by extreme sports enthusiasts and nature lovers alike.
But this unique piece of paradise, known simply as "El Delta," is perplexing health officials because of its mysterious sky-high rates of people infected with HIV — a particularly aggressive strain that kills its victims in five years or less.
The region is inhabited by the Warao people, an impoverished tribe settled along the river banks or on wooden huts above the quiet waters that are also their main source of livelihood.
HIV entered the community approximately 15 years ago, researchers say, but alarms went off after a 2013 study on eight of the Warao communities produced astonishing results: as many as 9.55 percent of the population tested came back HIV positive, in a country where the rate is 0.56 percent. (The highest prevalence of HIV in the world is that of sub-Saharan Africa, where 5 percent of the population is infected.)
In one of the communities tested, Usidu, 21.6 percent of people were carrying the powerful HIV strain.
Flor Pujol, one of the authors of a study released recently by the Venezuelan Institute for Scientific Research, said today's prevalence of HIV in the area remain astronomically high due mainly to poverty.
"Our estimates are that 10 percent of Warao people could be infected, that's more than 10 times higher than the overall level of HIV occurrences in Venezuela at large, which is less than 1 percent," Pujol told Fox News Latino.

About 30,000 people currently live in the delta area, a 16,000-square-mile stretch of wetland where the Orinoco meets the Atlantic.
It is unclear how HIV reached this isolated community. Scientists say most of those infected are men, with homosexuality and prostitution possibly playing a role.
But Pujol and other experts say that the main reason behind the epidemic is related to poverty and its limited access to health care. The tribe made national news a decade ago because of its high prevalence of tuberculosis and hepatitis B, and in 2008 health officials reported an outbreak of a rabieslike disease that killed dozens in the delta region.
The fact that they live in isolation, between creeks and the open sea, does not help authorities implement effective health policies, experts say.
"[HIV] can be particularly devastating in this Amerindian population," the researchers wrote in the study, which was funded by the Venezuelan government and Shell, the oil company, which operates several oil and gas businesses in and around the delta.
Life in the Orinoco river delta, where temperatures hover above 89 degrees Fahrenheit year round, is slow and mellow.
The Warao, who pretty much live the same way the Spaniards found them in 1492, do not even have a word for HIV and know very little about the disease. Local media reported that tribe members began approaching health workers and religious missionaries in the area complaining of severe weight loss and dizziness – and that's how health care workers discovered there was a rash of HIV cases among them.
But even when vials of medicine began arriving to this stretch of Venezuela to help tribe members infected with HIV, they didn't understand the gravity of the situation.
"The sad thing is, when we do manage to get them the retrovirals, they take them for one or two months and, once they start feeling better, they stop taking the medication," Pujol said, "and that's when something serious usually happens."
"They don't understand," she said, "that HIV is something they will have to deal with their whole lives."