Grim headlines, hard data show suicides on rise among teens nationally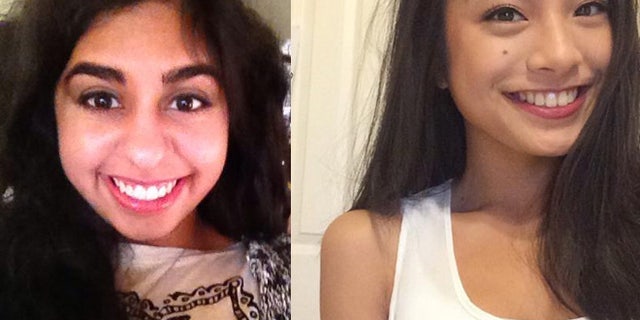 The recent suicides of two girls from the same Texas high school were among the latest such tragic deaths to shake a disbelieving community, and underscored what experts say is a troubling national trend.
Ritu Sachdeva and Hillary "Kate" Kuizon, both 17-year-old seniors at Plano East Senior High School, knew each other, according to police, who are investigating whether the deaths are connected. Sachdeva died Jan. 31 from a medication overdose inside her home, the medical examiner ruled, while Kuizon died by hanging herself in a wooded area not far from a middle school in Murphy, a suburb of Plano.
"We don't have good explanations for why we're seeing this increase."
Their deaths as well as other recent teen suicides to make national headlines -- from Westport, Conn., to Omaha, Neb., -- are part of a steady rise in self-inflicted deaths among young people, ages 10 to 24, since 2007, according to health officials.
"We are seeing significant increases in suicide for those ages," Dr. Thomas Simon, the Centers for Disease Control and Prevention's suicide expert, told FoxNews.com. "When you go back to 2007, the rates in that age group have gone up every year."
According to the CDC, 5,504 people ages 10 to 24 died by suicide in 2014, the most recent year in which statistics are available.
The figure was up from the grim 2013 tally of 5,264, and the number has risen every year and up 13 percent from 2010. Experts are braced for official 2014 and 2015 statistics to show a continued upward trajectory.
Males are four times as likely as females to kill themselves, and the rate of teen suicide is higher in rural Western states, where there is greater social isolation and more difficult access to mental health care, experts say.
It's not clear what's causing the rise, according to those collecting the data.
"The data allows us to track the trends over time but they don't allow us to look at the causes behind those trends," said Simon. "We don't have good explanations for why we're seeing this increase."
Families, psychiatrists and suicide prevention advocates offer explanations ranging from cyberbullying to underlying mental health disorders to economic factors.
On Dec. 23, two days before Christmas, 14-year-old Christopher Lanni, of Westport, Conn., died at Yale-New Haven Hospital in what the state medical examiner ruled was suicide by hanging. His parents, Peter Lanni and Cornelia Gallo, wrote an open letter to the head of the town's school system, requesting an investigation into reports Christopher may have been the target of bullying.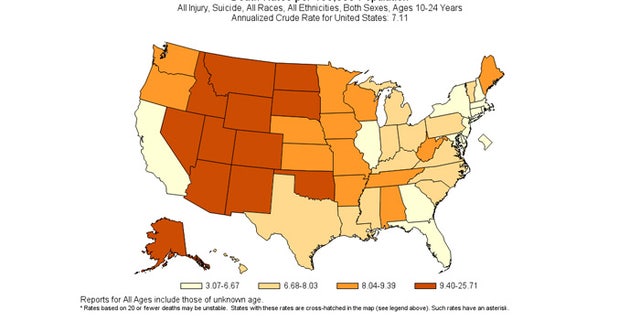 "We request a thorough, professional investigation of allegations that Christopher was being bullied at school and/or on social media platforms (i.e. Instagram) by his fellow Staples students," they wrote of their son, who was a student at Staples High School.
Cyberbullying may have played a role in other recent teen suicides.
On Jan. 4, 16-year-old David Molak was found dead by hanging in the backyard of his parents' San Antonio, Texas, home after months of being bullied over social media, according to his family.
His older brother, Cliff, later posted on Facebook that months of online torment had left his brother -- the youngest of three -- a "shell of a person."
'In today's age, bullies don't push you into lockers, they don't tell their victims to meet them behind the school's Dumpster after class, they cower behind user names and fake profiles from miles away constantly berating and abusing good, innocent people,' Cliff Molak wrote on Facebook.
According to local media reports, such cruel online messages included, "Let's put him in a body bag" and 'We're going to put him six feet under."
In Omaha, some 900 miles away, another teenage boy took his own life on Jan. 7 after months of being bullied by classmates, according to family.
Joni Adler, the mother of 15-year-old Reid Adler, told KETV that her son planned to go to school the next day because he finished all of his homework.
"I know it was a very snap decision. Teenagers make snap decisions a lot," she told the station.
Adler and her husband, Ralston School Superintendent Mark Adler, said they later learned Reid had been bullied for months -- with one student threatening to post embarrassing photos of him online, according to the station.
On Feb. 1, a sophomore at Fordham Preparatory School -- an all-boys Jesuit high school in Bronx, N.Y. -- was struck and killed by a commuter train in what authorities called a suicide. The boy's death came weeks after another student at the school -- identified as 16-year-old Owen Kelly -- jumped in front of a New York City-bound train on Jan 18.
Mental health experts say the deaths may have been a case of "suicide contagion," when news of a suicide can inspire another depressed person to harm himself.
While cyberbullying may help to explain an increase in self-inflicted teen deaths, suicide prevention advocates say its one factor among several.
"It's the irrational thinking in suicide that makes it so complex for us to understand," said Maureen Underwood, clinical director for the Society for the Prevention of Teen Suicide.
"I certainly think that social media has contributed to it but every kid who's bullied doesn't choose suicide," Underwood told FoxNews.com. "Almost all kids who are bullied have some vulnerability that led them to be targets of bullies."
Underwood also noted that the frontal lobe of the brain -- involved with problem solving, language, judgement, impulse control and many other key functions -- is not fully developed until well into adulthood.
"Many kids do not understand that once they're dead, they're dead forever. They don't understand the finality of it," said Underwood. "As adults, we think with our frontal lobe. They [teens] think from the amygdala – the part of the brain responsible for our feelings."
Dr. Eric Caine, director of the Injury Control Research Center
for Suicide Prevention at the University of Rochester Medical Center, noted another potential factor in the rise of teen suicides nationally.
"Around the world, starting with the great recession, suicide rates went up," Caine told FoxNews.com. "When families become disrupted, that impacts kids. One of the biggest predictors [of teen suicide] is family turmoil."
If a person is at risk, he or she or a family member is urged to called the National Suicide Hotline at 1-800-273-8255.
Warning signs include talking about feeling hopeless or having no purpose, talking about feeling trapped or in unbearable pain, talking about being a burden to others, increasing the use of alcohol or drugs, acting anxious, agitated or recklessly and withdrawing or feeling isolated.
In Texas, meanwhile, authorities are struggling to make sense of the deaths of two teen girls whom had everything to live for.
"It took everyone by surprise," Murphy Police Chief Arthur Cotten told FoxNews.com Thursday. "It's a terrible blow for the families and for everyone involved in the event."
The Facebook page of Suchi Sachdeva, Ritu's sister, shows a beaming teenager described by her family as "bright, beautiful, quirky, and just all around amazing, inside and out."
"Everyone loved her so so so much," Suchi Sachdeva wrote in a Jan. 31 post.
"Our family and friends are devastated. It's going to be extremely difficult to move on from this tragic loss. Nothing is going to be the same; her birthday, holidays, going to restaurants, going on family vacations, etc.," she said.
"I'll always be thinking of her when doing anything good."
Cristina Corbin is a New York-based reporter for FoxNews.com. Follow her on Twitter @CristinaCorbin.